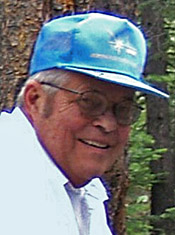 Wally Gene Birkley, 71, passed away at his home in Berthoud on August 29, 2013.
Wally was born October 30, 1941 in New Castle, Neb. to Orville and Lyla Anfinson Birkley. Wally moved with his family to Loveland in 1948. He graduated from Loveland High School in 1960.
On March 14, 1964 Ruby Dreith and Wally Birkley were married in Astoria, Ore.
Wally enlisted in the U. S. Coast Guard in February 1963. Wally was stationed aboard the USCGC Mallow in Astoria, Ore. and Honolulu, Hawaii. Wally was honorably discharged as an E-5 Storekeeper in February 1969, serving 4 years active duty and 2 years in the reserves.
Wally and Ruby returned to Colorado upon completion of his active military duties. Wally went to work for Community Finance in Denver. He then went to work as a manager for Local Loan Finance Company in Arvada. Wally and Ruby moved back to Loveland in 1975. They moved to Berthoud in February 1977, when Wally obtained employment at Berthoud National Bank. Wally worked for Berthoud National Bank for almost 26 years, retiring in January 2003. During his employment at Berthoud National Bank, Wally was manager of Berthoud Industrial Bank and a loan officer in construction lending.
Wally was a member of the Berthoud Chamber of Commerce and the Berthoud Lions Club for many years. He served as treasurer in both organizations. Wally was also a member of the Mead Fishing Club and the Berthoud Gun Club for several years.
Wally enjoyed fishing, camping, riding his motorcycle, rides in his dune buggy and "Beemer', and four wheeling. He was also a skilled woodworker. If you showed Wally a picture of something, he could build it. Wally won many blue ribbons at the Larimer County Fair for his woodworking skills on the lathe. Wally built several pieces of furniture for his home and family.
Wally is survived by his wife Ruby of Berthoud; daughter Marissa Fisbeck and husband Scott of Windsor; granddaughters Ali Hensel, Sophia Fisbeck, and Stella Fisbeck; grandsons Merick Fisbeck and Breckin Fisbeck; sisters Marlys Arndt of Loveland and Phyllis Crispe and husband Jack of Castle Rock; brother Wayne Birkley and wife Colleen of Hawk Springs, Wyo.; brothers-in-laws Mart Dreith and wife Sue of Milliken, Dick Dreith and wife Margie Rosborough of Loveland, Dennis Dreith and wife Rose of Milliken, Bill Dreith of Loveland; numerous nieces and nephews.
Wally was preceded in death by his parents, in-laws Reuben and Emma Dreith, and a brother-in-law Mike Arndt.
Services will be held Sunday, September 8, 2013, 11:00 a.m. at the family home in Berthoud. In lieu of flowers, the family requests memorial contributions be made to Pathways Hospice or Wounded Warriors, c/o of Viegut Funeral Home. Go to www.viegutfuneralhome.com for condolences.

Print This Post