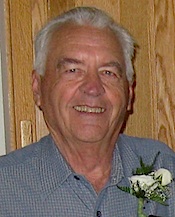 Kenneth Roy Krieger, 74, of Berthoud, passed away Monday, September 2, 2013 in Loveland, Colorado from a heart related illness. Kenny was born January 11, 1939 at the family home in Berthoud to Conrad and Leora (Dreith) Krieger. He graduated from Berthoud High School in 1957. This farm boy found his way to Chicago, where he worked for Midway Airlines and met his future bride, Judith M. Petre of East Aurora, NY. They married October 15, 1960 in Chicago then made their first home in Longmont. They have lived in Berthoud since 1968.
Ken was a worker, holding a variety of jobs before retiring from Adolph Coors Co. after 20 years, first at the Longmont barley receiving station, then the brewery in Golden. In retirement he continued to work on projects at home, at his children's properties, for extended family and friends, and most recently, on the relocation of a historical cabin for the Berthoud Historical Society. He dabbled in many hobbies including gardening, prospecting, attending farm and antiquing auctions, tinkering with cars and Cushmans, genealogy and the history of Germans from Russian, and blessing us all with homemade smoked German sausage and egg noodles. His laugh, abundant humor and helpfulness will be sorely missed.
Kenneth is survived by his wife Judith Krieger of Berthoud; his children Mary (Tim) Gorman of Berthoud, Jeff (Chandra) Krieger of Loveland, Lisa Schramma of Loveland, Chuck (Kris) Krieger of Osakis, Minn.; siblings Alvin (Betty) Krieger of Loveland, Laurene Ellis of Loveland, Jim (Marilyn) Krieger of Fort Collins; granddaughters Jocelyn Powell, Caitlin Hummel, Erica Schramma, Kelsey Schramma, Kendal Krieger, Jacie Krieger; great-grandchildren Samantha Sorenson, Aspen Sue and Rowan Hummel; as well as numerous cousins, nieces, nephews and a wealth of friends.
Cremation has been completed. Visitation with the family will be held at the Viegut Reception Center on Friday, September 6, 2013 from 4 pm-7 pm. Per Ken's request, a celebration will be held at a later date with details to follow. Donations in his name to the Berthoud Historical Society, PO Box 225, Berthoud, CO 80513 or Pathways Hospice, 305 Carpenter Rd. Fort Collins, CO 80525. Go to www.viegutfuneralhome.com for condolences.

Print This Post