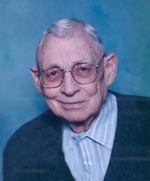 Surrounded by family at his home in Berthoud, Colorado, Quentin Lee Glass was welcomed into the arms of the Lord, January 15, 2011.
Quentin was born May 18, 1931 in Worland, Wyoming, to Simeon E. Glass and Ruth Stroud Glass. He graduated from Worland High School in 1949. He then attended one year of college at Ottawa University in Ottawa, Kansas.
In 1951, he received an appointment to the U. S. Naval Academy and graduated in 1955 as an Ensign with a degree in Mechanical Engineering. He spent a short time in the Navy before receiving an honorable medical discharge.
August 18, 1956 he married Bonnie Everling, in Sundance, Wyoming. The couple moved to Laramie where Quentin pursued a MS degree in Mechanical Engineering. After receiving his degree, they moved to Rapid City, South Dakota, where Quentin taught Civil Engineering at South Dakota School of Mines. In 1961, daughter Margie, joined the family. In 1963, the family returned to the University of Wyoming where Quentin earned a Ph.D in Adult Education. While in Laramie, Quentin and Bonnie served as Directors of the Baptist Student Center for two years. In 1965, the family moved to Brookings, South Dakota where Quentin taught Engineering and was Director of Placement for the College of Engineering at South Dakota State University. A second daughter, Susan arrived In 1966. After four years in Brookings, the family moved to Ft. Collins, Colorado for a year and then spent the next 35 years living in Longmont.
While in Colorado, Quentin was a Real Estate broker until his retirement in 1991. He was also a member of the Lions Club and Sertoma Club for a number of years. He volunteered for several years at Homework Hotline at the Longmont Library and St. Vrain Adult Education.Quentin was a lifelong member of American Baptist Churches wherever the family lived. He served in many different positions of Christian service. From 1975-1979 he served as Western Area Delegate of American Baptist Men. During his lifetime he was known for his knowledge and teaching of the Old Testament in Sunday School classes. He loved Bible trivia and it was hard to stump him. As a "numbers" person he was known for being able to provide many dates, times, and information off the top of his head.
Quentin's favorite hobby was working with wood. This passion was evident in the joy he took in building the family's log cabin in Big Elk Meadows. The cabin was the site of many memorable gatherings. He treasured spending time with family and friends.
In 2007, Quentin and Bonnie moved to Berthoud, where he spent the remainder of his life. Quentin Glass was a faithful and devoted husband, loving father and grandfather, reliable brother and trusted friend.
He leaves to mourn his passing: his wife, Bonnie, his daughters, Margaret (Jeffery) Gooch of Berthoud and Susan (Tom) Canchola of California; grandchildren, Brady (Jaren) Sterkel of Yardley Commons, Pennsylvania, Jessica (Casey) Shupe of Loveland, Brycen Quinn Sterkel of Berthoud, twins Andrew and Carly Canchola of California; great grandchildren, Lily Marie Sterkel, and Deacon Doughlas Shupe, brother Wesley (Shirley) Glass of Loveland, brother-in-law Jack Busler of Tempe, Arizona, and numberous cherished nieces, nephews and cousins. He was preceded in death by his parents, brother Stanley Glass of Palo Alto, California, sister Peggy Busler of Tempe, Arizona, and brother Jerry Glass of Hamilton Dome, Wyoming.
Memorial contributions can be made to First Baptist Church, Seventh Street and Kimbark Street in Longmont or HospiceCare of Boulder and Broomfield Counties.
Visitation will be held at Ahlberg's Funeral Chapel, Wednesday, Jan 19 from 4 to 6:30 p.m. with the family present.
Burial will be at Foothills Gardens of Memory, Thursday, January 20 at 11:15 a.m. Friends are welcome.
A celebration of Quentin's life will be held Thursday, January 20, at 1:30 p.m. at the First Baptist Church, 701 Kimbark Street in Longmont.
Please share condolences and memories with Quentin's family at ahlbergfuneralchapel.com.

Print This Post