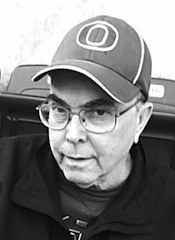 September 17, 1940 – November 16, 2013
Raymond Dicks, age, 73, passed away on Saturday, November 16, in Eugene, Oregon while exiting Autzen Stadium. He died of a massive heart attack while being tended by many trained people. The following Sunday morning, he became an organ donor. Ray was a resident of Roseburg, Oregon for 51 years. During his career, he served the Roseburg Public Schools.
He was born in Berthoud, Colorado, and he was the son of Ray and Hilda Dicks Sr. and brother to Elizabeth Cottle of Tuscola, Illinois. He was uncle to Todd, Greg, Amy, Doug, David and Wen. He was brother-in-law to Jim and Jennie Powers of Prineville. Ray was the devoted husband of Pat for 45 years.
Ray was educated at Pine-Eagle High School in Halfway, Oregon, Eastern Oregon College in La Grande and later received a masters degree and administrative credentials at the University of Oregon. He was a math instructor and Vice Principal at Joseph Lane Junior High School, the Director of Secondary Education and later served as Assistant Superintendent of the Roseburg Public Schools. Ray was a Deacon and Elder in the First Presbyterian Church, a charter member of the Roseburg Morning Rotary and a long time fan of the Roseburg Indians and the Fighting Ducks of Oregon. Ray always enjoyed a good joke and a friendly game of poker.
Graveside services will be Friday, November 22, 2013 at Roseburg Memorial Gardens at 1 p.m. and a memorial service will be held Saturday, November 23, 2013 at 1 p.m. at the First Presbyterian Church of Roseburg. A reception will follow. In lieu of flowers, donations can be made to the First Presbyterian Church Memorial Fund or the Roseburg High School in memory

Print This Post