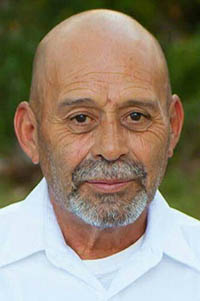 Ricardo (Rick) Mendoza was born to Rito and Sara Mendoza on April 6, 1955 in New Braunfels Texas, relocating to Loveland/Berthoud area in 1957. Ricardo was raised in Berthoud and attended school there moving to Dacono 25 years ago.
He loved his family and children made him smile. He was an avid Bronco fan who loved fishing, playing pool, traveling and spending time with his friends at Jerry D's.
Ricardo is survived by his children Steven Martinez (Rebekkah) and Shannon Martinez; companion Linda Martinez; grandchildren Rayell Ulibarri, Steven Martinez, Mariah Pacheco, Evangelina Martinez, Stella Martinez and Samuel Martinez; sisters Esther Reyes, Natividad Lesure (Dave), Gloria Vallejo (Sabas), Maria Langley (Terry) and Valentina Carrion (Armando); brothers Rito Mendoza, Paul Mendoza, Albert Mendoza (Pam) and Epimenio Mendoza (Terri).
He is preceded in death by his parents Rito and Sara Mendoza and brothers Jessie, John and Castulo.
He will be deeply missed by family and friends.
A celebration of life Memorial Service will be held Friday Sept 23, 2016 @ 2:00 pm at Rocky Mountain Christian Church in Fredrick, Colorado with luncheon following. Go to www.viegutfuneralhome.com for on-line condolences.

Print This Post