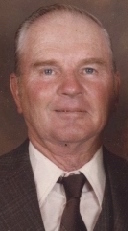 Robert P. Starck, 82, died October 10, 2017 among family. Robert was born October 28, 1934 in Riverton, Wyoming to Emil and Victoria (Heberlein) Starck. Robert moved to Colorado as a young child and graduated from Berthoud High School in 1954.
Robert married Virginia Sauer at the Congregational Church in Loveland, Colorado in 1956, then moved to live and work on the family farm in Johnstown, Colorado where he resided with his family for the next sixty years.
While farming was always his passion, Robert also enjoyed flying and riding his motorcycle. He was an active member of the International Flying Farmers as well as a board member of Colorado Community Bank, a board member of the Ditch Company and a member of Immanuel Lutheran Church of Loveland.
Robert is survived by his children, Cynthia Jo Starck of Fort Collins and Ronald Paul Starck of Johnstown, sister Virginia (Starck) Buehler and husband Howard of Berthoud and brothers Larry Starck and wife Mary of Loveland, Harlan Starck of Logan, Kansas, Raymond Starck of Loveland, sisters-in-law Cindy Starck of Fort Collins, Norma Couture of Watauga, Texas, three grandchildren and five great-grandchildren.
He is preceded in death by his parents, wife Virginia, sisters Helen and Karen, and brother Jerry.
Services will be held at Immanuel Lutheran Church at 10:00 a.m. on Monday, October 16, 2017. A meal and reception will immediately follow with interment at Johnstown Cemetery at 1:00 p.m. In lieu of flowers, donations may be made to Immanuel Lutheran Church and School of Loveland, Colorado or Pathways Hospice of Northern Colorado, in care of Viegut Funeral Home. Go to www.viegutfuneralhome.com for on-line condolences.

Print This Post