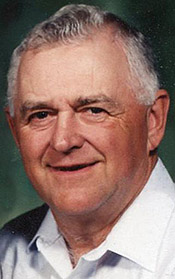 Tom Lee Gapter, 76, of Berthoud passed away at McKee Medical Center on January 18, 2016. He was born on July 11, 1939 in Loveland, Colorado to Doris and Clem Gapter. He graduated from Boulder High School where he was a wrestler in 1958. He was a carpenter and built many houses with his dad in Boulder. He also worked at Gapter Excavating as a backhoe operator for 32 years and Thompson School District in Loveland for 10 years.
He married the love of his life Judy Jones on June 28, 1959 and has been married for 56 years. They moved from Boulder to Berthoud in 1974 where they built an amazing life with their three children. He loved the outdoors! Camping, fishing and four-wheeling was among of his favorite things to do with his family and was always looking to catch the biggest fish. He also loved the Broncos and would never miss a game.
He is survived by his wife Judy, daughter Christy Riggins and her husband Roger, daughter Cindy Deines and son Scott Gapter all of Berthoud. Nine grandchildren, Shelly Riggins, Lori Kingsley and husband Kyle, Karen Kingsley and husband Nik, Shaun Riggins, Mitch Deines, Cole Deines, Kelly Gapter, Matthew Gapter and David Gapter. His brother Dick Gapter and wife Carole from Boulder and sister Bev Hodgson and husband Lee from Platteville. He also had five great grandkids, Connor Riggins-Smith, Keegan Kingsley, Kayla Kingsley, Autumn Kingsley and Trevor Kingsley.
Celebration of his life will take place on Friday January 22 at the Berthoud Community Center, 248 Welch Ave, Berthoud Colorado at 1:00pm.

Print This Post