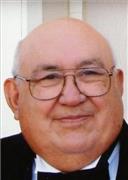 Audenago "Derald" Vigil, Jr. 80, of Berthoud, peacefully passed away on January 9, 2016. He was born September 16, 1935 in Rinconada, Rio Arriba, New Mexico, the fourth child out of nineteen born to Audenago Vigil Sr. and Erminia Romero.
On September 7, 1957 Audenago married the love of his life, Marie Vasquez. They were later sealed in the Mesa Arizona temple of the Church of Jesus Christ of Latter-day Saints.
Audenago grew up in Berthoud and was recognized as high point man in basketball. He lettered in baseball, football, track and basketball. He began his career in the State Capital building as a printing apprentice and later retired as a Graphic Arts Specialist after working at IBM for twenty-four years.
He enjoyed fishing and hunting, but his true love was his beautiful wife and family. Audenago is survived by his wife Marie Vasquez of Berthoud and three sons, Mark Vigil (Melanie) of Conifer, Colorado; Steve Vigil of Roy, Utah, and Kevin Vigil (Amy) of Johnstown. He leaves behind four grandchildren and two great-grandchildren. He is also survived by fifteen siblings: Bill, Thomas, Johnny, Deloris, Mary, Esther, Becky, Carol, Bob, Sarah, David, Ruth, Debbie, Gilbert and Loraine Vigil. He was proceeded in death by his parents and his brothers Alex, Nick and Ben Vigil.
Memorial services will be held on Thursday, January 14th 2016 at the LDS chapel, 550 Spartan Avenue, Berthoud. Viewing 9:00 a.m. Services 10:00 am. Interment Greenlawn Cemetery. A Reception will follow the services. Family and friends may view the online obituary and sign the guestbook at www.resthavencolorado.com. The family wishes to express their appreciation to Kindred at Home Hospice, Berthoud Living Center and all who helped to care for Audenago. Thank you for your kindness and compassion.

Print This Post