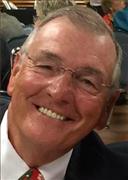 Michael David Callies of Berthoud, died January 2, 2016 at Longmont United Hospital. He was 71-years-old. Mike was born October 23, 1944 in Waupaca, Wisconsin to Herbert Callies and Irene Olson Callies.
Raised in Stillwater, Minnesota, he was active in cross country, basketball and track in high school. He attended the University of Wisconsin-River Falls.
Mike married Roberta Keller on March 30, 1965. He was a volunteer fire fighter with the St. Paul Park fire department until moving to Scandia, Minnesota, where he raised his two children. His family moved to Berthoud in 1986
He married Ann Kern on September 9, 2000 in Berthoud. They loved to travel and play golf in both Colorado and The Villages, Florida. They were members of Westview Presbyterian Church, Longmont. Mike worked in the pharmaceutical business for many years. He began with Medtronic in Minnesota for over 17 years before being recruited to Boulder, to work with Valleylab as their Director of Materials. He retired in 1999. Mike will be fondly remembered for his kindness, acceptance of others, constant patience, and unconditional love. He enjoyed spending time with his children and grandchildren fishing, hiking and enjoying other outdoor activities.
Preceding him in death are his parents, his brother Jack Callies and former wife Roberta. Surviving are his wife Ann of Berthoud; children Michael (Ann) Callies, Jr. of Shakopee, Minnesota; Heidi (Matthew) West of Estes Park; and Jennifer (Walter) Miller of Hygiene; brothers Tony (Dorothy) Callies of Bloomington, Illinois; and Randy (Marti) Callies of St. John, Virgin Islands; and grandchildren Emma, Ethan and Lydia Callies and Miranda (Damian Cran) and Sierra Martinez and 2 great grandchildren Madison and Logan Cran.
Memorial Service will be held at 3:00 p. m., Friday, January 8, 2016 at the Howe Mortuary Chapel, with Reverend Scott Phillips officiating. Contributions in lieu of flowers may be made to the Westview Presbyterian Church, 1500 Hover St., Longmont, CO 80501 or Longmont Humane Society, 9595 Nelson Road, Longmont, CO. 80501 Please share your thoughts, memories and condolences with the family at www.howemortury.com.

Print This Post