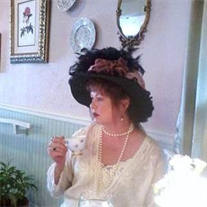 Johanna C. McCarthy, 57, of Berthoud, passed away December 29, 2015 at Medical Center of the Rockies in Loveland. She was born August 21, 1958 in Livermore, California to Theodore and Betty Manz. She was the youngest of 4 children—April, Mark, Holly and Jo. Jo married Patrick J. McCarthy on January 22, 1980. They laughed and loved and lived for over 36 years.
Jo was funny and a little bit crazy. Her greatest treasure was family, especially those 3 grandkids. She was a daredevil, explorer, animal lover, gardener, a great cook, a quilter, had her own great style, loved decorating and going fishing with Pat and the kids. As a child, she had lived in Denver, Colbran and Utah. She completed her high school education later in life and also attended cosmetology school, and had worked at a variety of jobs. She was always a very hard worker.
Jo went everywhere with Pat, following his work in the electrical generation industry—from Craig, to North Carolina, to Utah, to Florida, Georgia, Arkansas, Washington state and enjoyed travel to China, Indonesia and Australia, and finally settling in Berthoud.
She is survived by her husband Pat, her children Kristen (Rick) Brock, Thornton, Shirene Sponsel, Longmont and John Sponsel, North Carolina, also her sister April (Steve) Maio, Westminster, and her brother Mark Manz, and the 3 grandchildren Jasmine and Jordan Pinon and Kaine Sponsel. There are also 7 nieces and nephews surviving her, whom she really enjoyed. Also treasuring her memory include furry kitty friends Shadow and Nicholas, and a pooch named Lizzy. Three precious furry ones, Kate, Becky and Woodrow have passed on.

Print This Post