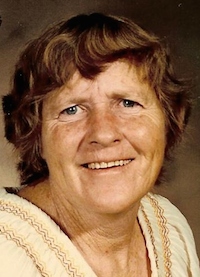 Dorothy E. Rogers, 81, passed away Dec. 13, 2015 at her home in Johnstown surrounded by her family and friends. She was born in November 5, 1934 in Weldona, Colorado to James and Ruth Ellen McHale. Dorothy married Fred A. Rogers on the land in which they both lived and died. She loved the small community and has lived here over 60 years. She was a volunteer at the Senior Center and enjoyed going to Black Hawk and bingo with all of her dear friends. Dorothy had a passion for collecting items, especially dolls, and have shared them with everyone. Her main hobby was crocheting, and even though her eyesight failed her, she crocheted up until the time of her death. Dorothy loved the outdoors and really enjoyed raising birds. Her grandchildren will always remember her as grandma with the chickens. Her five children will always remember her as a feisty little woman determined to win the battle with lung cancer.
She is survived by her five children Barb Jensen and husband Rick of Mead, Don Baker and wife Lori of Windsor, Judy Dale of Greeley, Ron Baker and wife Wendy of Kimball, and Jodie Kraus and husband Dana of Johnstown. Also a Brother, James McHale of Denver, and many grandchildren and great grandchildren.
The family decided to set aside a day in her memory at the Johnstown Senior Center on Saturday December 19th, 2015 at 10 am. She will be cremated and laid to rest with her husband in the spring followed by a graveside ceremony with the family. Arrangements will be made later through Viegut Funeral Home in Loveland. Go to www.viegutfuneralhome.com for condolences.

Print This Post