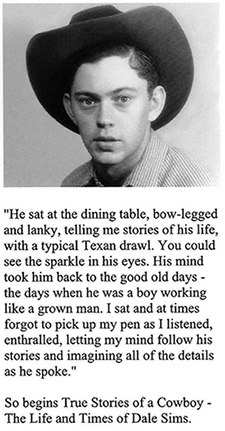 Dale Sims, formerly of Berthoud, Colo. age 86, passed away November 21, 2015 at Childress Regional Medical Center in Childress, Texas
A Celebration of Life will be held on January 9 from Noon to 4 p.m. at the Berthoud Community Center located at 248 Welch Ave. in Berthoud.
Dale was born in Childress on May 9, 1928 to William "Willie" and Sadie (Cox) Sims. Dale was a member of the Pro Rodeo Cowboys Association and competed for several years as a steer wrestler. A former contractor, he built several homes in Boulder County, Colorado as well pursuing his love for rodeo.
Dale and his wife also owned the Oxbow Stables in Nederland, Colorado as well as a working cattle ranch outside of Lakeview, Oregon.
Later they moved to Manhattan, Montana. where they lived for several years until retiring to Colorado in 1983.
Dale is preceded in death by his parents; brothers Morgan, Clifford, J.B., Joe and Ray; and three sisters; Mildred, Ollie and Elora. His, wife, Ruth and daughter Debbi also precede him in death.
Survivors include his daughter, Becki Tschirpke and her husband Gerry of Berthoud; a younger brother, Duane of Childress; and several nieces and nephews.
In lieu of flowers, donations to the Justin Cowboy Crisis Foundation would be appreciated.

Print This Post