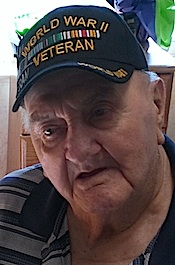 William "Bill" Albert Kuess, 92, of Berthoud died December 20, 2012, at the Berthoud Living Center. He was born September 25, 1920, in Vernon, Wisconsin, to William C. and Ella (Kaske) Kuess. Bill grew up in Vernon and Big Bend, WI and graduated from Waukesha High School in 1939. He later enlisted in the U.S. Navy and served in WWII from 1943-1946 in Guam with the Navy Seabees.
After the service he married Arlis Martin on October 3, 1947, in Vernon. Bill worked as a Milkman for Golden Guernsey Dairy in Waukesha, Wisconsin, before moving to Radisson, Wisconsin, in 1975 where he and Arlis opened their own tavern called Bill's Place. He was quite well known in the Radisson area and was loved by many. In 2001 he retired and sold the tavern at the age of 80. Shortly after the passing of his wife, Arlis, in May of 2005, he moved to Loveland, CO, in 2010 and then to Berthoud in 2011. Bill enjoyed golfing, fishing, and hunting in his years in the north woods of Wisconsin and did his share of bowling, baseball and basketball as a young man.
Bill is survived by his son William Martin Kuess of Pewaukee, Wisconsin daughter Gail Schumacher (Paul) of Berthoud, CO; brother Donald Kuess (Janet) of Waukesha, Wisconsin; grandchildren Joshua, Caleb and Sarah Schumacher all of Berthoud, CO; nephew Brian Kuess (Beth) and his family of South Carolina; nieces Cindy McGown (Dan) and her family and Christie O'Malley (Mike) and her family all of Wisconsin and several nieces and nephews of his deceased siblings; as well as Arlis' family.
He was preceded in death by his parents, wife Arlis, and five sisters.
Funeral services will be held in Wisconsin with burial at the Northern Wisconsin Veterans Cemetery in Spooner, Wisconsin. Go to www.viegutfuneralhome.com for condolences.

Print This Post