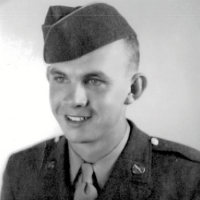 William "Bill" Schreiner May 1, 1924 – July 19, 2010 William "Bill" Albert Schreiner passed away peacefully at Family Health West in Fruita, Colorado on July 19, 2010. He was 86 years old. Bill was born May 1, 1924 to Fred and Amelia Schreiner in Fort Morgan, Colorado. He was the youngest of ten children. He spent his childhood in Fort Morgan and graduated from Fort Morgan High School in May, 1942.
He was drafted into the military the day after his high school graduation and spent the next four years in the South Pacific fighting for his country. He served in many campaigns as a platoon leader including those on New Guinea, Guam and the Mariana Islands, the Philippines and Okinawa. He was part of the Allied Occupation of Japan after the surrender. He was a decorated combat veteran and was awarded the Bronze Star for valor and the Purple Heart for wounds received in combat. The trauma he endured during the war had a lasting effect on Bill but he was always proud of his service to his country and never missed an opportunity to pay tribute to those who serve our country.
Bill married his high school sweetheart, Betty Trumbo, on March 30, 1947 in Fort Morgan. Together they had five sons. He was always proud of his boys and never missed an opportunity to show them off to relatives and friends. After Betty died of cancer Bill continued to work full time and raise the younger boys on his own. All of his boys have grown to be responsible and dependable men that any father would be proud of.
Bill was a construction dam and bridge superintendent during his working career. He worked on many projects in Western Colorado including the Vega Dam and Water Diversion Project, Lemon Dam near Durango, and many of the bridges and interchanges that were part of the development of I-70 in Western Colorado and Eastern Utah. Later in his career, Bill was a General Superintendent for Hensel Phelps Construction Company; he supervised many impressive projects including Kodak of Colorado, Martin Marietta Plant in Boulder, Atlanta MARTA, and many additions and remodels to Stapleton International Airport in Denver.
Bill was preceded in death by his parents; all of his nine brothers and sisters; his wife, Betty and an infant daughter. He is survived by his sons, Bill (Jessica) of Lebanon, Ohio; Larry (Susan) of La Jara, Colorado; Merlin (Sherry) of Grand Junction, Colorado; Calvin (Lora) of Berthoud, Colorado, and Gary of Lynwood, Washington; six grandchildren, and three great grandchildren.
Services were held in Loveland, Colorado at Resthaven Memorial Gardens at 10:00 a.m. Saturday, July 24, 2010. The family would like to thank Family Health West and Hospice & Palliative Care of Western Colorado for the loving and endless care given to Bill during his decline in health. The people at these two organizations are a true blessing to those of us living in Western Colorado.

Print This Post