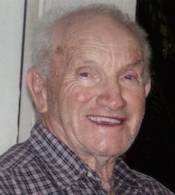 William Fagler of Berthoud passed away on January 10, 2015. A Colorado native, he was born near Longmont to Adam and Anna Katherine Fagler in September 1930. He lived in the Longmont/Berthoud area all his life. He farmed with his dad before entering the Army during the Korean War in August 1951. Upon his honorable discharge in May 1953, he began his career as a truck driver. First working for Fred Harsch Lumber Company in Longmont. He completed his driving career by working for St. Vrain Block for 28 years, retiring in 2003.
Bill met Agnes Koolstra at the A&W in Berthoud when he completed his military service and she was graduating from high school. She became his wife in May 1954. They lived on ten acres east of Berthoud for the past 56 years. This is where they raised their seven children.
Bill is survived by his wife Agnes, son Phil (Kathy) of Berthoud, daughter Karleen Reed (Bruce) of Westminster, sons Willie and Jay of Berthoud, Andy (Paty) of League City, Texas, Benny (Denise) of Longmont and daughter-in-law Dana of Houston, Texas. He is also survived by grandchildren Kim Newby (Michael), Sherry Hubbard (Leo), Jamie Cunningham (Patrick), Sarah Grose (John), Kacey and DIllion Fagler, Levi Fagler, Patty Seward (Brandon) and Claudia and Maria Solorzano. Great grandchildren Amber and Nathan Newby, Taylor Speaker (Jerry) and TJ Hubbard also survive.
Aaron, his youngest son, preceded Bill in death in April 2012. Also preceding were his nine brothers and sisters.
Bill was a Christian, attending services at the Church of Christ in Berthoud and Bible studies with the Pratt Street Christians in Longmont.
Viewing will be held 4 pm to 7 pm on Friday, January 16, 2015 at Viegut Funeral Home, 1616 N. Lincoln, Loveland. Funeral services will be at 10 am on Saturday, January 17, 2015 with viewing one hour prior at Taft Street Church of Christ, 4100 South Taft Avenue, Loveland. Interment at Greenlawn Cemetery, Berthoud. Go to www.viegutfuneralhome.com for condolences and full obituary.
You may honor Bill with a smile, a kind word or a hand up to your fellow man.

Print This Post