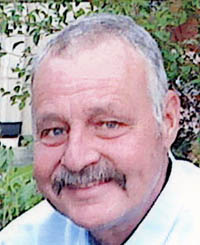 Bill Geiger took his last breath of country air on Sunday August 14 at his home, "The little places west of Berthoud." He leaves behind his soul mate of 33 years, Danette, 2 children Casie (Ben) and Adam (Jen), Grandma Edna and grandson Drake. As owner of Geiger Associates Plumbing & Heating, Bill took great pride in his work and valued his customers.
He was a Colorado transplant from Pennsylvania since 1976, where he was one of 5 children: Dave (Mary Kay), Jim (Joan), Sue (Bob) and Tim (Paulette). Over the years, he never lost his cravings for hoagies, scrapple and cheese steak. In his younger years, he loved training and showing his horse Mucho (who eventually joined him in CO) and was a professional bull rider.
As a man who could find use for anything, fellow auction buddies knew him as "Dollar Bill". He could see gold in every truck and trailer-load he brought home. He was also an adrenaline junkie – having mastered skydiving, swimming with sharks, bungee jumping and his homemade "slap-a-trap".
He constantly surprised and awed people with his creative welding and artistry. Walking through his gardens you could spot any number of treasures – butterfly benches, jesters, gazebos, gold mines, and creatures of all shapes and sizes, showcasing his imaginative talents. Working together with Danette on their dream home and gardens, he has left behind an amazing tribute to his life.
Memorial services were held in August. Memorials may be made to the Bill Geiger Memorial Fund in care of Guaranty Bank & Trust, 807 Mountain Avenue, Berthoud, CO 80513.
Services provided by Viegut Funeral Home.
Go to www.viegutfuneralhome.com for condolences.

Print This Post