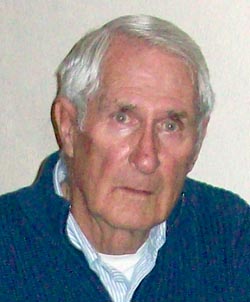 Wilbur "Wil" Austin Heiser, 79, of Loveland died September 13, 2011 at his home. He was born January 15, 1932 near Charleston, Iowa to Andrew and Irma (Burghoffer) Heiser.
Wil lived in Longmont from 1966 to 1984, he then moved to Loveland. On January 2, 1999 he married Treva Edwards. He worked as an air-traffic controller at the Longmont FAA Center for 30 years.
Wil was an active member at King of Glory Lutheran Church, serving as usher and a member of the Building Committee. He spent many years on the Glen Meadow HOA Architecture Review Committee and is a lifetime member of Elks Lodge 1051. Will served our country from 1951-1955 in the U.S. Navy during the Korean Conflict. He was a member of the American Legion and a volunteer DAV driver. Will enjoyed many things including golfing, traveling, bridge and other card games but his real passion was golf. Wil enjoyed his grandchildren, teaching them how to fish and play board games.
Will is survived by his wife Treva of Loveland; sons Phillip (Jodi) of Highlands Ranch, Colorado and Kevin (Linda) of Harrison, Tennessee; brother Milton Heiser of Urbandale, Iowa; grandchildren Jessica Williams, Daniel Heiser, Amanda Heiser; great grandson Carter Williams; and many nieces, nephews, and cousins.
He was preceded in death by his parents.
Memorial services Saturday, September 17, 11:00 a.m., at King of Glory Lutheran Church, 2919 North Wilson Avenue, Loveland. Memorials donations may be made to King of Glory Lutheran Church or American Legion #41 in care of Viegut Funeral Home.
Go to www.viegutfuneralhome.com for condolences.

Print This Post