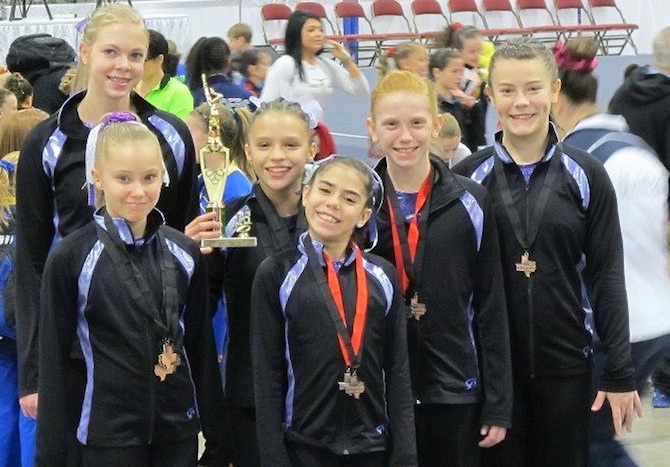 Level 8 Team Picture: Left to Right, Back Row: Alyssa Strong, Tatum Graham, Jaxi Melby, Morgan Adams. Front Row: Aryn Archambeau, Kairey Vela
By Julee Graham
Premier Gymnastics of the Rockies traveled to Fort Worth, Texas on January 25-27 to participate in the "2013 Metroplex Challenge". The event host was Metroplex Gymnastics of Fort Worth. The Premier Gymnastics level 8 team placed third in the team competition. Bailie Holst, Level 10 gymnast, placed second All-Around in a very competitive Senior Session with a score of 36.875. Holst placed third on Vault, Bars and Beam.
In Level 7, Moira Dillow placed fifth on vault in the Junior B Division.
In Level 8, Jaxin Melby was Vault Champion with a Score of 9.300 and Kairey Vela placed second on Bars with a Score of 9.500 in the Junior A Division. In the Junior B Division, Aryn Archambeau placed fifth on both Vault and Floor.
Premier will be heading to Chicago this coming weekend, February 8-10. "Chicago Style" is the largest gymnastic meet in the country with over 4,000 competitors. Illinois Gymnastics Institute will be the host and the venue will be at the Navy Pier.

Print This Post