by

 

Kristina Chew

Toddlers and guns: you've very likely already read one too many reports about a small child finding a gun and killing someone or even her or himself. There have been way, way too many such stories lately, each one more a glaring reminder about the United State's failed efforts to reform gun control laws.On Sunday, 3-year-old Damon C. Holbrook found a .40-caliber handgun loaded with 15 rounds in an unlocked case in a bedroom closet in the Dundee, Michigan house where he lived with his father and two siblings and another family. While the adults in the house were talking in the kitchen, Damon was playing by himself in a first-floor bedroom when he found the gun and accidentally shot himself in the head and died. He was rushed to a hospital in Ann Arbor and died just about an hour later.

The gun's 30-year-old owner, Joshua Greenhill, was one of the adults in the house; he was arrested and jailed. On Tuesday, he was charged with careless discharge of a firearm causing injury or death, a high misdemeanor that carries a maximum penalty of two years in prison. The Monroe County Prosecutor's Office had at first been considering a charge of involuntary manslaughter, which carries a maximum penalty of 15 years in prison.

'Responsible Gun Owner' Opens Fire On Car Full Of Kids Because Dad Tried To Turn Around In Her Driveway
By Abby Miller
You know how sometimes you get lost and you just don't have anywhere to turn around except by using someone's driveway? Well, don't ever let that happen to you in the backwoods of Tennessee.
Oscar Scott and his family of seven decided to go out for a nice Sunday visit to Bays Mountain Park in northeastern Tennessee. When it was time to go home, they thought it'd be nice to take the scenic route. After enjoying some scenery, they came across Bays Mountain Road and took it, curious to see if it would take them back to the park. After going a ways down the road, they noticed that the road became very narrow and turned in to what Scott described as "an old log road." Figuring it was best to turn around, he put the car in reverse, and chaos ensued.


Police: 5-year-old girl fatally shoots self in La.
NEW ORLEANS (AP) — Police say a 5-year-old girl fatally shot herself when her mother locked her inside their home and went to the store.
The New Orleans Police Department said in a news release the girl was home alone Sunday, somehow found her mother's revolver, and accidentally shot herself in the head. The mother, 28-year-old Laderika Smith, will be booked on a charge of second-degree murder. Police say her negligence resulted in the death of her daughter.

Justin Stanfield Thomas Shot, Killed Accidentally By 4-Year-Old Son In Arizona
June 7, 2013
PRESCOTT VALLEY, Ariz. — Authorities in northern Arizona say a 4-year-old boy has accidentally shot and killed his father at a Prescott Valley home.
Prescott Valley police say the shooting occurred just after noon Friday.

Ten injured in shotgun blast at gun show
By David Ferguson
June 6, 2013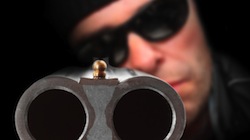 Ten people were hurt Tuesday night when a gun show worker fired a shotgun into the floor, thinking the weapon had been loaded with dummy ammunition. According to Elgin, Illinois Courier-News, the gun was accidentally fired during a gun show at the St. Charles Sportsman's Club, the area Country Club.
The Kane County Sheriff's Department reported to the Courier that officers responded to the club, located in Blackberry township, after reports of gunfire.
Seven people were treated at the scene for minor injuries. Three men, ages 81, 60 and 14 were transported by ambulance to a local hospital for treatment.

Texas boy was making AK-47 'safe' when he killed stepsister on her 13th birthday
By David Edwards
June 6, 3013
A Texas girl died on Tuesday night after being accidentally shot with an AK-47 assault-style rifle while her stepbrother was "making the weapon safe by pulling the trigger," authorities said.
In a press release on Wednesday, Johnson County Sheriff Bob Alford explained that deputies responded to a call Tuesday night about 8 p.m to find 13-year-old Emilee Bates shot in the stomach.
According to KXAS, Lt. Tim Jones told how the girl's 19-year-old step-brother, Austin McCord, accidentally fired the weapon while cleaning it.
The sheriff's office said that McCord had ejected two "dummy" rounds from the AK-47, but he had forgotten about other live rounds in the magazine.

San Diego Accidental Shooting: 10-Year-Old Boy Killed While Playing With Friend, Loaded Gun
A 10-year-old boy was killed in San Diego after an accidental shooting Tuesday.
According to police, the child and a 9-year-old girl were handling a loaded gun in the garage of a housing complex when the shooting took place, local news outlets report. Though the boy, identified by ABC 10News as Eric Klyaz, was rushed to a local hospital, he succumbed to his injuries later that day.
As the Associated Press notes, the girl's 14-year-old sibling was babysitting at the time, and no adults were present. After the shot rang out shortly after 4 p.m., adults nearby ran to the garage and discovered Klyaz had been shot in the chest. Police found a 9 mm semi-automatic at the scene.
"I heard a loud pop and said that didn't sound good," a neighbor told Fox 5 News San Diego. "I found a boy curled up in the fetal position with a red dot on his back it looked like a gun shot."


Print This Post