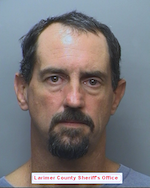 Jason Eric Delaney, DOB: 06/20/67, of Loveland, has been arrested for the August 15, 2013 robbery of the Points West Community Bank in Wellington. Mr. Delaney was arrested on one count of Aggravated Robbery, a class three felony.
Investigators identified Delaney as a possible suspect due to tips received from the public following the release of surveillance photos from the bank. The Federal Bureau of Investigation provided additional resources to the Larimer County Sheriff's Office during the investigation.
Following the issue of an arrest warrant yesterday, Mr. Delaney turned himself in at the Larimer County Jail last night. He was booked and then released on a $5,000 personal recognizance bond.
The charge(s) are merely an accusation and the defendant is presumed innocent until and unless proven guilty.

Print This Post