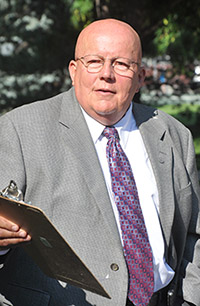 David Hallet recently chose McKee Park to announce his candidacy for Ward 4.
In Hallet's words, "Today I announce that I am a candidate for Loveland City Council for Ward 4. My vision is simple, the people first, and always. I chose to live in Loveland for three reasons; the diverse elements contributing to an excellent quality of life; the beauty of the city and clean environment; as well the balance of growth and historical preservation. This said I have been very disappointed in the actions of our City Council, particularly with regards to their duty to protect the interests of all the residents of Loveland. For example, the rush the current majority seems to have to permit hydraulic fracturing for natural gas within the city. Very few question the industrial efficacy of "tracking" and understand that petroleum products are essential to our way of life. However, as this activity moves from rural and lightly inhabited areas along the Front Range into the back yards of residential neighborhoods, many wonder why it is so urgent to charge ahead. Shouldn't there be a thorough understanding of the facts? Not spoon fed industry generated facts, but independent, peer reviewed scientific studies of impacts on long-term safety and property values. Shouldn't we encourage 21st Century energy solutions such as wind, solar and geothermal rather than embracing increased dependence on fossil resources?
My opponent in this race has publicly stated that he doesn't see the problem, as only a few people will be affected. I ask, why sacrifice anyone? Profit for some, at the expense of others, is driving some of our current council in many of their actions. This eagerness to assist some individuals to quickly capitalize has led to some very questionable decisions in several other areas as well. This has to stop.
I resolve to place people first. We deserve council leadership that is focused on the long-term with an appreciation that decisions made today will affect generations to come.
I grew up in Colorado, dedicated a career to the Navy, and have lived in several states. I returned to Colorado, by choice, to enjoy the quality of life and live in beautiful Loveland. Many agree that we should encourage growth that will enhance, not spoil, our special city. I ask for your vote in Ward 4 on November 5."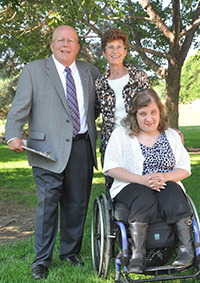 David Hallet, his wife Sandra and daughter Emily

Print This Post