Beginning June 7 the new FLEX bus service will link Berthoud with Fort Collins, Loveland and the Longmont Regional Transportation District's (RTD) bus connections to downtown Denver and Boulder.
During weekday peak commuting hours in the morning and evening, an express route will serve primary stops between Fort Collins and Longmont, including a stop in Berthoud. The first southbound bus is scheduled to stop in Berthoud at Third Street and Mountain Avenue at 5:42 a.m. Three more buses, at 6:12 a.m., 7:05 a.m. and 8:05 a.m. complete the morning peak schedule to Longmont. The first returning northbound bus is scheduled to stop in Berthoud at 6:25 a.m.
Mid-day, FLEX will provide hourly basic service between Fort Collins and Loveland with two busses continuing through Berthoud until the evening peak schedule starts.
A single trip faire on the express route is $1.25, 60 cents for seniors (60+) and youth 17 and younger ride free.
From Longmont, riders will have to pay the RTD fare to Boulder or Denver. A single-trip fare is $4.50, $2.25 for seniors.
The trip from Berthoud to Longmont takes approximately 20 minutes according to the FLEX schedule. Riders can plan another 40 to 60 minutes to reach downtown Denver.
More information and the bus schedule can be found on the Flex web site. Click on the highlighted text or the FLEX logo above to visit the site.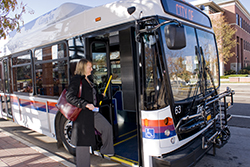 Print This Post