By P.J. DiPentino
Berthoud Recorder
Over the Labor Day weekend Lexi and I had the pleasure of attending a Berthoud tradition that most townspeople have never heard of — The BOB Party. Short for the "Bums of Berthoud," BOB is a tight knit group of blue collar heroes. Every year they migrate to an undisclosed location to come together to help a local charity. This year's recipient was Alex Sabados. Alex is a Turner Middle School student who is battling brain cancer

The event was fun-filled, with everything from beer to dancing. Mind you this is no "bring your own" picnic affair. In what resembles a barbeque on steroids, even a serious Texan would be jealous — ribs, brisket, chicken and anything that can come off a grill was displayed in a 50-foot line of food that also included a shrimp gumbo any Cajun would die for. The salad buffet was incredible, but the best part was the dessert section. If it came from gramma's memory book, it was at the table! But that was just the food.

The entertainment was action packed with local musicians coming together and taking turns belting out tunes from the '70s through the present. My favorite was a local musician Rich, who regularly plays at the Derby Grille. His style of music is a pleasure, and we are really looking forward to his participation at the upcoming Alex's Fun Run Sept. 19, where he will be the headline entertainer

When the crowd was fed and the music was alive, the best part began. Donated items were raffled off in a makeshift 50/50 fundraiser. The cash prize was donated back to the Sabados foundation by Dave and April who won the drawing. Great prizes were won by local partygoers, including a flat screen TV. The highlight of the auction was a guitar played by Willy Nelson that brought in $375. When it was completed, the party raised over $3,500 for Alex and the Sabados family.

After the auction and raffle, the music picked up and the party rolled on into the night. I promised the group leader that I wouldn't drag his name around the paper because that is not what this BOB is about. They are all about helping people, not self recognition. They are Berthoud residents who care about Berthoud! So to keep it simple — thanks BOB, you're one of a kind, and you make me proud to be in Berthoud.
News Image: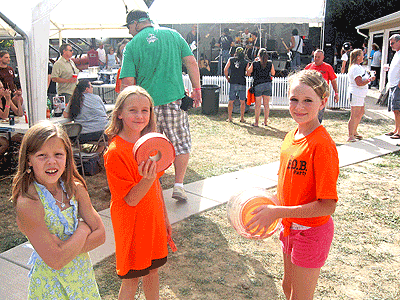 News Image: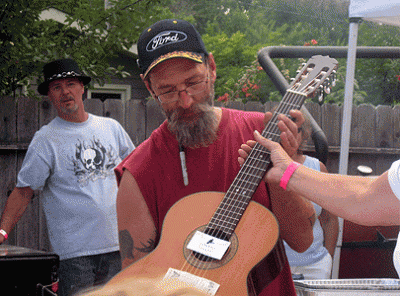 Long Description:
<p>The party raised more than $3,500 for Alex and the Sabados family. Wearing orange event T-shirts, Katelyn Spears and Hannah Eaton sell raffle tickets.</p>
Long Description:
<p>The highlight of the auction: &ldquo;Uppie&rdquo; snags a guitar played by Willy Nelson for $375.</p>
Category Lead:
Category Secondary Featured Story

Print This Post