By Judith Powers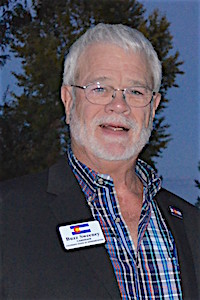 Buzz Sweeney is challenging Republican Perry Buck for the District 49 House Seat in the Colorado Legislature.
"You deserve a choice," he says, referring to the fact that his opponent was unopposed in the last election, which gave progressives no choice at all.
"I want to be your Representative because you deserve a choice between someone who might or might not represent your values, and me, a social progressive who is an economic conservative," said Sweeney at a recent "Meet and Greet" near Wellington.
"As a thoughtful, engaging, qualified member of the Colorado House of Representatives, I will think through the complexities of the issues that face our district and the state, get past the peripheral noise, and make decisions that will be in your best interest," he said.
"I want to be your citizen legislator," said Sweeney, adding that though the legislature meets from January through May, the job requires 12 months of dedication.  "As a retired person I have the ability to treat this like a full time job, and you will receive the benefits," he said.
Sweeney is committed to equal pay for women and especially women's right to choose their own health care solutions.  He understands that global warming has a scientific explanation, and that it can be reversed by wise actions now.  He knows that solar, wind and thermal energy are economically viable, and is committed to ending to the era of hydrocarbons. He is well versed in the environmental hazards involved in hydraulic fracturing (fracking), especially regarding the widespread unsafe storage of the polluted wastewater from the process in Weld and Larimer counties, and its effect on the health of residents. He is calling for a Medicare plan for all citizens, a minimum wage of $15, and affordable post-secondary vocational training to train technicians for today's jobs.
"Our school systems need to partner with mental health professionals especially at the pre-K level," he said.
Colorado is not without its problems, with a growing population inhabiting this high desert climate, said Sweeney. He called for a comprehensive growth plan that integrates agriculture, water, transportation and affordable housing; wider highways, more commuter railroads and economical and convenient bus transportation.
"Chances are, some uncomfortable compromises will be made during my tenure in the Colorado House of Representatives. I think you will be better off if I represent you," he said.
Sweeney, 70, is a New Jersey native who lives in Glacier View Meadows in Livermore with his wife Anita.  He received a Bachelor's degree in elementary education from Cedarville, Ohio in the late 1960s, and following a career as a public school teacher, entered a second career in national and international industrial sales.
"While traveling internationally, I've dealt with people from all continents. I've discovered that the common thread among all people is the desire for a safe, healthy and comfortable life for themselves and their children," he says.
He has three grown children and five grandchildren.
He has a small, dedicated campaign staff whose goal is to reach every voter in the District.  There are 62 precincts in the District, which includes all of Larimer County except Fort Collins and Loveland, and also includes the Windsor area in Weld County.  Mike McKay, Sweeney's campaign manager, is seeking out individuals in each precinct to call Democrats and Independents to make sure they know about Sweeney, distribute yard signs, and best of all, hold neighborhood gatherings where residents can meet Sweeney in person and discuss their concerns about Colorado government.
Sweeney's website is Buzz4CoHouse.com and his Facebook page is Buzz4CoHouse.  Those wishing to help the campaign are urged to contact him at buzz@buzz4cohouse.com; or call 970-449-9974.

Print This Post