Cat Owners should "Beat the Heat" Before Spring
with Fort Collins Cat Rescue & Spay/Neuter Clinic's Spay Promotion
FORT COLLINS, Colo. – Jan. 21, 2013 – Warmer weather may still be months away, but Fort Collins Cat Rescue & Spay/Neuter Clinic wants you to  "beat the heat" by spaying your cat in advance of her heat cycle and preventing unwanted litters from being born this spring.
Animal shelters commonly refer to spring time as "kitten season" because that is when they receive the largest influx numbers of unwanted litters that are difficult to adopt.
To help reduce the number of homeless cats born this spring, Fort Collins Cat Rescue & Spay/Neuter Clinic is offering a special "Beat the Heat" promotion sponsored by PetSmart Charities®. During the entire month of February, Fort Collins Cat Rescue & Spay/Neuter Clinic will spay 200 femalecats for a special rate of $20. Call the clinic at (970) 484-1861 to schedule an appointment.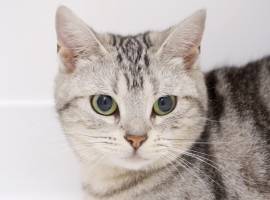 Spaying and neutering is one of the most effective ways to reduce the homeless pet population. While some worry that their pet may be too young for this procedure, spaying and neutering is safe for kittens as young as 8 to 10 weeks old, according to the American Veterinary Medical Association.
Spaying a female cat before the first heat cycle is actually beneficial, rather than waiting until after one heat cycle has occurred. The procedure is known to improve the health of the pet, including a reduced risk of certain reproductive cancers and infections.
"Female cats can have as many as three litters a year, and kittens can breed as young as 4 months old," says Sarah Swanty, executive director of FCCRSNC. "Most people don't want to see their cat get pregnant over and over again, so hopefully our 'Beat the Heat' campaign will serve as a gentle reminder to cat owners to sterilize their cats before they go into heat and become pregnant this year."
This special rate is even less than the organization's normal low-cost price and is available to all residents of northern Colorado and southeastern Wyoming. Cat parents who wish to take advantage of this offer must mention the "Beat the Heat" promotion when they schedule their appointment.
Thanks to the PetSmart Charities grant, Fort Collins Cat Rescue & Spay/Neuter Clinic will provide 200 female cat sterilizations for $20 during February. Please visit www.FCCRSNC.org or call (970) 484-1861 for more information or to schedule an appointment. The clinic is located at 2321 E. Mulberry St. #9 in Fort Collins.
About Fort Collins Cat Rescue & Spay/Neuter Clinic
Fort Collins Cat Rescue & Spay/Neuter Clinic is a limited admission, adoption guarantee, nonprofit cat shelter and low-cost sterilization clinic for both dogs and cats. The organization is dedicated to the well-being of all cats and dogs in our community with emphasis on preventing pet overpopulation and on the sheltering and placement of surrendered or abandoned cats into loving, permanent homes. Since its inception, the shelter has found homes for more than 4,800 cats, and the clinic has performed over 22,600 surgeries.
About PetSmart Charities
Established in 1994, PetSmart Charities, Inc. is an independent, nonprofit 501(c)(3) organization that creates and supports programs that save the lives of homeless pets, raise awareness of companion animal welfare issues and promote healthy relationships between people and pets. The largest funder of animal-welfare efforts in North America, PetSmart Charities has provided more than $165 million in grants and programs benefiting animal-welfare organizations and has helped save the lives of more than 5 million pets through its in-store adoption program. To learn more about how PetSmart Charities is working toward its vision of a lifelong, loving home for every pet, visit petsmartcharities.org or call 1-800-423-PETS (7387).
# # #

Print This Post