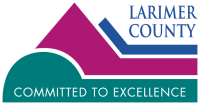 County offices open in Loveland
Dangerous, damaged tree limbs were removed from the front entryway of the 6th Street County building in Loveland today. The work was performed by the City of Loveland Light and Power Department. Schultz Industries will return Friday to clean up the leaves and small branches that remain. The building will open for business Friday, 10-28-11.
Larimer County's Alternative Sentencing Unit Crews to Assist with Area Branch Clean-Up
Larimer County, Colorado – The Larimer County Alternative Sentencing Department's Workender Program will be partnering with the cities of Fort Collins and Loveland this weekend to assist with clean up after this weeks heavy snowfall. Crews will be working at Northshore and Benson parks in Loveland and many sites within Fort Collins, including Roselawn cemetery.
The partnership with both cities and the Alternative Sentencing Department is one that has worked well for over twenty years. The cities benefit by receiving a supervised labor force of 14-18 offenders, for 5 hours at the low price of 50.00 per day. Low Risk non-violent offenders benefit by having the opportunity to remain productive members of the community by maintaining employment, and remaining compliant with court ordered classes, therapy, treatment and restitution.
Any Non Profit 501(c)(3) agency within Larimer County qualifies for services from work crews. Work crews are offered to the community four days per week. The Workender Program operates on Saturday and Sunday, and the Midweek Program operates on Tuesday and Wednesday.
If you are aware of a Non Profit agency within Larimer County who could benefit from partnering with these programs please contact Lori Whitson at 498-5242 or Jill Fox at 498-5420.
Friday morning update from Loveland
By working throughout the night, power has been restored to all except 16 Loveland customers, with most of those remaining outages in Big Thompson Canyon. It's possible there are a few additional outages that Loveland Water & Power (W&P) is unaware of. Any customer with an outage is asked to call the dispatch center at 663-1043
Big Thompson Elementary School west of Loveland is closed.
The Red Cross shelter at Thompson Valley High School is closing this morning.
Traffic lights at all Loveland intersections are operational.
City tree crews return to work at daylight and will continue to work through the weekend removing limbs from streets and public rights-of-way. It was announced last night that limb drop-off sites at Centennial Park and the Agilent property will open this morning. These sites are in addition to the Recycling Center.
Crews are also working in city parks. Some park areas and sections of the recreation trail are closed.
Additional tree limb drop-off sites to open
The City of Loveland will open two additional sites Oct. 28 for drop-off of broken tree limbs and branches from to the recent snowstorm. The new sites will be in addition to the Loveland Recycling Center, 400 N. Wilson Ave., where hundreds of motorists have been dropping off broken branches.
The new sites will be at the former Agilent property and Centennial Park. The Recycling Center and the two new sites will operate 8 a.m. – 6 p.m. every day.
Access for drop-off at the Agilent property will be through the east entrance of the property, using Barboura Dr. from S. Roosevelt Avenue. Access into Centennial Park will be from First Street. Signage at the properties will guide motorists to the drop-off locations.
Limb disposal at all sites will be free to Loveland residents with a valid 2011 yard debris permit. Anyone without a permit is asked to dispose of their branches at the Recycling Center where a $2.50 per cu. yd. fee will be collected.
For more information call the City's Solid Waste Division, 962-2529 or visit www.cityofloveland.org.

Print This Post