Larimer County Sheriff's Office deputies have arrested Justin Ray Smaxwill, DOB: 02/05/93, of Fort Collins on numerous felony and misdemeanor charges.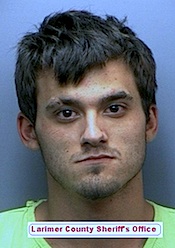 Mr. Smaxwill was arrested early this morning for 2nd Degree Burglary (F3), four counts of Identity Theft (F4), 1st Degree Criminal Trespass (F5), Unlawful Possession of a Controlled Substance (F6), Theft (M2), False Report to Authorities (M3), Possession of Drug Paraphernalia (P2), Compulsory Insurance Violation (T1), Careless Driving (T2), Driver's License Violation (T2) and Defective Tail Lamps (TB).
Deputies conducted a traffic stop of Mr. Smaxwill after observing defective tail lamps on his vehicle as well as observing him driving carelessly in the 4000-block of South Taft Hill Road. Subsequently it was determined that Mr. Smaxwill's driver's license was under restraint and he had no proof of insurance for the vehicle.
Further investigation revealed a number of items inside the vehicle that were believed to be stolen, including a computer monitor, a stolen credit card and a stolen vehicle registration as well as drug paraphernalia.  Upon arrest, a small amount of methamphetamine was found in Smaxwill's shoe. It was later discovered that Smaxwill had allegedly used the stolen credit card on numerous occasions.
During the investigation Smaxwill reported that his home had been burglarized and several items stolen.  An investigation into this burglary later proved this report to be false.
Mr. Smaxwill is being held at the Larimer County Jail pending bond. Additional charges are pending further investigation.
The charges are merely an accusation and the defendant is presumed innocent until and unless proven guilty.
Anyone with information regarding this or any other crime is asked to call Larimer County Sheriff's Office at 970-416-1985 or Crime Stoppers at 970-221-6868 where you will remain anonymous and possibly be eligible for a cash reward.

Print This Post