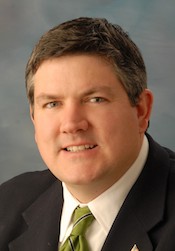 District 3 County Commissioner Tom Donnelly announced today that he will seek reelection to the Larimer County Board of Commissioners. Donnelly, a Loveland resident, is currently serving his second term on the three-member Board.
Donnelly said he was running to continue work on flood recovery and its budgetary impacts and to help implement regional projects, such as expanding I-25 and constructing a new County facility in Loveland. "The Board has really been working well with our municipalities. It's clear that Larimer County is moving in the right direction," Donnelly said. As examples, Donnelly mentioned a cooperative agreement between local municipalities and County government which will allocate over $5.3 million towards a local match to improve bridges on I-25 and the County's vigorous recovery efforts following the 2013 floods.
Donnelly said the Board remains fiscally conservative, with a planned property tax rebate scheduled to take effect next year. "It seems like every time you turn around, government is asking for a couple more dollars out of your wallet. Larimer County is going to be returning some of those dollars back to your pocket," Donnelly said. Donnelly and his fellow Commissioners had heard from many seniors on fixed incomes who sought a cushion in the face of increases in assessed value. "It is consistent with previous actions by the Board to be mindful of taxpayers," Donnelly stated, citing a 2012 action when the Commissioners had ended a sales tax early.
A licensed, professional land surveyor in private practice before being elected to the office of Commissioner, Donnelly also previously served as the elected County Surveyor. Tom and his wife Lexy have four school-age children and are long-time residents of the City of Loveland.

Print This Post