Recorder Staff

A fire, which seriously damaged the historic Park Theatre Mall, was contained by noon Monday, sparing the landmark Park Theatre. Estes Park Police Dispatch received the first report at 6:19 a.m.; the Estes Park Volunteer Fire Department responded at 6:21 a.m. Upon arrival, firefighters reported seeing fire breaking through the roof on the west side of the mall building.
The fire, located at 116 East Elkhorn Ave. in downtown Estes Park, was contained to the mall itself, and did not spread to the adjoining buildings.
"Our hearts go out to our friends who have lost businesses. We are grateful that through the efforts of firefighters and rescue workers, so many other businesses were spared," said Peggy Campbell, executive director of the Estes Park Local Marketing District.
The Park Theatre Mall structure, which dates back to 1914, was originally a carriage house and livery; more recently, the building was converted into stores. No fire alarms or sprinkler systems had been installed in the building, which was home to seven businesses.
Due to the construction of the building, firefighters, including personnel from Loveland Fire Rescue, Pinewood Springs Fire District, Allenspark Fire District, and Glen Haven Fire District, fought flames from the outside of the building with ladder trucks, aerials, and snorkel apparatus. Also helping out was local firefighter Doug Kink and his restored snorkel vehicle.
"We are very grateful for the prompt response of the Estes Park Volunteer Fire Department, which helped minimize the spread of the fire," said Mayor Bill Pinkham. "This incident demonstrates the importance of having a properly trained, dedicated, and well-equipped fire department."

"We also appreciate the cooperation and support of our neighboring agencies who pitched in during this critical time," Pinkham added.

Category:
News – Community
News Image: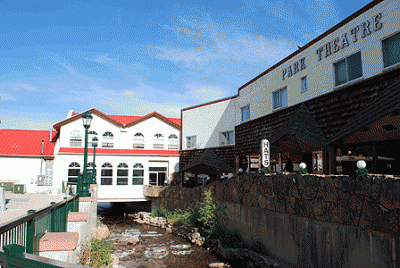 Long Description:
<p>Portions of this historic complex were destroyed Monday.</p>
Category Lead:
Category Secondary Featured Story

Print This Post