Loveland woman trapped in submerged car during floods grateful for last-moment rescue
Longmont, Mountain View firefighters braved rushing waters to pull her to safety
By Pierrette J. Shields Longmont Times-Call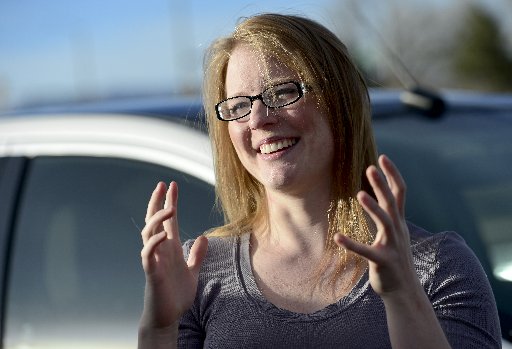 Just two days shy of her 23rd birthday, Erin Brazzil used her cell phone to call her father to tell him goodbye.
With the phone gripped tightly to her face she told him that she wouldn't be coming home again, that she was sorry for everything bad she had ever done.
Through tears and panic, she called out "Daddy! Daddy!" as the floodwaters rose inside her car. She was trapped inside after her Nissan Altima was picked up in a surge at Boston Avenue and Hover Street and carried east.
The water was so cold it was painful. She struggled helplessly to get out after the car was set adrift and pushed by the rushing waves as the rain continued to pummel Boulder County.
"I was like, 'Daddy, Daddy, I am legitimately going to die,'" she recalled. "I was like, 'I am so sorry, Dad. I am so sorry for everything I have done to you and Mom.'"
The engine in the car failed, electrical systems stopped working, the doors were locked and pinned tight by water pressure, and she exhausted herself trying in vain to kick out a side window or the windshield as her terrified father coaxed.
She began to make her peace with herself. With God. The waters would claim her, she was sure.
Thursday
Brazzil left work at 1:53 p.m. on Sept. 12 determined to make it from southwest Longmont across the city to her babysitter's home on St. Clair Avenue to pick up her 2-year-old daughter during historic flooding. They would then set out for home in Loveland.
Rain had soaked the city, and some areas were flooding, with conditions changing moment to moment, but she waved off her boss' offer to return to the office for shelter should travel be too much to handle. No, she recalled thinking, there was no food or toiletries at the office and she needed to retrieve her daughter, Autumn. …


Print This Post