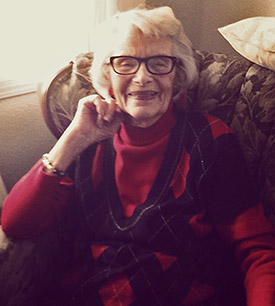 Berthoud Memories on 95th Birthday
Lucille Buehler Dorman will celebrate her 95th birthday on Saturday, June 15, 2013.
Lucille, a second generation Berthoud native, was born 95 years ago on the family farm east of Berthoud. Her parents were Walter and Dora (Davis) Buehler. She was the oldest of four daughters.
Lucille attended a one-room school house through 8th grade then transferred to Berthoud High School. She graduated in 1936 and was the first in her family to graduate from high school. She married her high school sweetheart and fellow Berthoud native, Don Dorman, on April 23, 1939.
The newlywed couple lived in town after their marriage where Lucille experienced her first home with electricity and plumbing.
"When my husband came home from the war, there was no work in Berthoud so he took the Civil Service test and got a job in South Dakota. We moved to Grand Junction in 1952," Lucille said. "At one time, I had 27 first cousins in Berthoud but I am the only one left now. I don't have anyone else in the family recall those times with," she continued.
Lucille shared memories of walking with a friend past the bakery in Berthoud on their way home from school. "When I had a nickel in my pocket, I could get two cupcakes for us. We had a great time with those cupcakes," she said. She also recalled getting a hamburger for a nickel at the local restaurant in Berthoud.
Not all memories are of good times, Lucille explained, as she shared her experience of contracting typhoid fever when she was 6 years old. She and an adult female in Berthoud were the only two in the town who were stricken with typhoid. "Nobody ever figured out where we got it. We were quarantined in our own homes until we got over it. Dr. Howell had to come to our homes to take care of us," she said as she marveled at the still-unknown reason that typhoid fever appeared in Berthoud, Colorado.
Lucille has lived in Grand Junction since 1952. She and Don celebrated 63 years of marriage before his death in 2002. She has three children and four grandchildren.
Birthday wishes can be sent to Lucille at 3260 N. 12th Street, Apt. 331, Grand Junction, CO  81506.

Print This Post