By Laurie Hindman
Berthoud Recorder
In a rush? No time to brew a pot of coffee or grab a bowl of cereal? Have we got a deal for you and you don't even have to leave your car. The cheery yellow and purple Jo to Go drive through is located in the Kwik Corner parking lot, on west Highway 56 as you leave Berthoud.
Tiffany Thorstensen has owned and managed Jo to Go for seven months, it's like "déjà vu — Thorstensen owned Jo to Go with her husband Peter from 1996 to 2001. Thorstensen said that although it was a lot of work running a coffee shop that is open seven days a week, she missed it and when it became available she snapped it up. "Right after we sold it we wished we hadn't."

Thorstensen said the coffee is "Café Richesse," a strong, but smooth blend. She described the service as fast and the burritos, made by the Burrito Kitchen in Longmont, delicious and affordable. For under $3.00 you can grab a breakfast burrito — eggs and cheese with spicy sausage, ham, bacon or veggies. Add a 12-ounce cup of java for only $1.25 and breakfast is less $5.00. Or choose from one of the many gourmet coffee drinks such as almond joy, café Vienna, nutty Irishman or white rabbit; the most expensive 12 ounce drink on the menu is $3.25, but most are around $2.00. Jo to Go also offers chai tea, steamers, espresso, Italian soda, frozen coffee drinks, fruit smoothies and shakes.
Lunch on the go? No problem — Jo to Go also sells lunch burritos (beef and potato, chicken and potato, or beef and bean), soft drinks, iced coffee or tea and a choice of juices.
On a hot summer day there is nothing better than an ice cream cone. Jo to Go dishes out chocolate, strawberry and vanilla cones or sundaes, root beer floats and a wide variety of shakes including banana, amaretto and coconut.
Currently Jo to Go is open Monday through Friday from 6 a.m. to 2 p.m. and Saturday and Sunday from 7 a.m. to 2 p.m. Thorstensen said she hopes to expand the afternoon hours as business picks up. "Right now people are still re-discovering us," she added.
Jo to Go is back. Drive through, grab a cup of joe and say hi before you hit the road.
Category:
News – Business
News Image: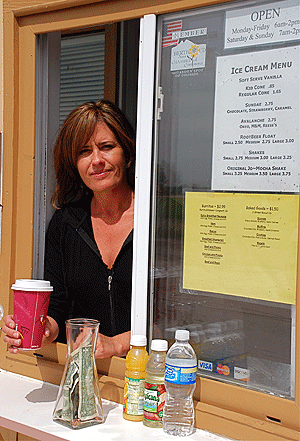 Long Description:
<p>Jo to Go owner and manager Tiffany Thorstensen said service is fast, friendly and affordable for breakfast, lunch or a yummy ice cream treat anytime. The drive-through coffee shop offers punch cards &mdash; buy nine and get the 10th one free.</p>
Category Lead:
Category Secondary Featured Story

Print This Post