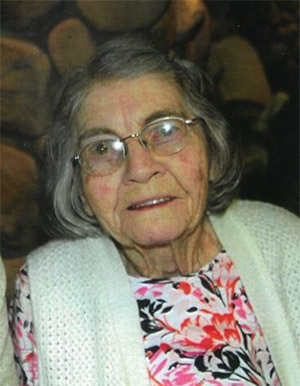 Barbara O. Schaal of Berthoud, passed away on January 2, 2023 at Berthoud Care and Rehabilitation.
Barbara was born April 4, 1926 to Fay and Opal (Kennedy) Sanders. She attended school in Colorado Springs and graduated from Colorado Springs High School. In August 1945, she married Dale Schaal. They were married for 59 years. The couple moved to the Schaal family farms southeast of Berthoud where they lived for 57 years. From this union are three children Linda, David, and Jana.
Barbara was a member of the Berthoud First Presbyterian Church, Berthoud PEO, and Whipple Club.
She is survived by one son, Dave (Tammy) Schaal of Berthoud; two daughters, Linda (Bob) Schmalzried of Berthoud, Jana (Dale) Smith of Greeley; six grandchildren, Mike (Lilia) Schmalzried, Todd (Heidi Zahalka) Schmalried, Esther (Darrell) Gesick, Jared (Jenny) Smith, Erin (Mark) Mazza, and Sara (Will) Phillips; 12 great-grandchildren; 3 step great-grandsons; nieces and nephews.
She is preceded in death by her husband; parents; father-in-law and mother-in-law, Newton and Esther Schaal; and four sisters Eloise Williams, Betty Sanders, Norma Lee Abendschan, and Julie Athearn.
Memorials are kindly suggested to the First Presbyterian Church of Berthoud.
To send flowers to the family or plant a tree in memory of Barbara Schaal, please visit Tribute Store.
Funeral Service 1:00 pm Friday, January 6, 2023 First Presbyterian Church -531 8th St. Berthoud, Colorado,

Print This Post