Joann Hanson
JUNE 23, 1933 – FEBRUARY 22, 2023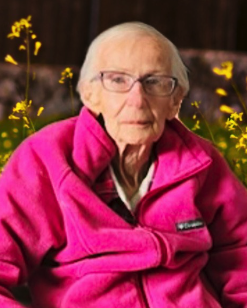 Alice Joann Hanson, known to her friends as Joann, of Berthoud passed away peacefully in her sleep on February 22, 2023, in her home of natural causes. She loved being a teacher. She spent her life advocating for people through education and individual support.
Joann was born to Helen Marie Farnsworth in Stockport, Ohio on June 23,1933. She grew up there and graduated from Barlow High School. From Ohio State University in Columbus, Joann received a Bachelor's degree in Education. Shortly afterwards, she moved to Palmer, Alaska where she taught elementary school. There she met and married Don Hanson in 1955. That same year they purchased a dairy farm, which they operated for ten years. Her son, Eric, was born there in 1960.
Joann and her family moved to Longmont, Colorado in 1966, where she found a job teaching elementary school. After a few years, Joann attended summer school at the University of Northern Colorado in Greeley, where she obtained a Master's degree in Special Education. She taught Special Ed. in Longmont for several years before returning to UNC for a Specialist's degree in School Psychology. Joann was a school psychologist in Longmont, Loveland and Berthoud. She received extensive professional recognition, was nominated for Colorado School Psychologist of the Year, and was a member of the Alpha Nu chapter of the Delta Kappa Gamma International Society for Key Women Educators.
Joann's husband, Don passed away in late 1981. She met the Berthoud farmer John Waggener, a life partner with whom she traveled and shared cultural experiences. She married John in 1985. Regrettably their time together was short, as John passed away in 1992.
Joann continued to live in Berthoud, enjoying time with her family and friends, as well as operating Gifts from the Guild, a consignment craft shop featuring the wares of local artisans, in downtown Berthoud for 10 years. It was important to her that local craftspeople had a venue from which to sell their products. Joann especially enjoyed the relationships with "my crafters" and made many friends thereby. Gifts from the Guild remained open until 2021.
Joann had a life-long love of helping with children both personally and professionally. She was generous with her time and resources to both friends and the community. She was devoted to her grandchildren and "adopted" the families of two of John's employees. For their children, Joann was the only Grandma they ever knew. In addition, she was a generous contributor to Meals on Wheels of Loveland-Berthoud, the Berthoud Rural Alternatives for Transportation (RAFT) and the Berthoud Historical Society.
Joann was preceded in death by her husbands, Don Hanson and John Waggener; her sister, Ava Bachelor; and her step-son, Mike Waggener. She is survived by her son, Eric Hanson; her grandchildren, Nikita Cross and Theo Hanson; her step-daughter, Jane Vielehr (Chuck) ; and her step-grandsons, Josh Vielehr and Jake Waggener.
A memorial and remembrance service will be held at 2:00 PM on April 22, 2023 at the home of Jane Vielehr, 980 W. Mountain Ave. in Berthoud. In lieu of flowers, donations can be made in memory of Joann Hanson to either The Berthoud Historical Society (https://www.berthoudhistoricalsociety.org) or The American Cancer Society (https://donate.cancer.org/). Fond memories and expressions of sympathy are welcome at www.ahlbergfuneralchapel.com.

Print This Post