Beverly Belle Ward, 83, of Berthoud, died on July 15, 2009, at the Hospice Care Center at McKee Medical Center in Loveland. She was born on June 25, 1926, in Mendon, Mo., to Leo E. and Lela Belle (Jackson) Shults. She graduated from high school in Idaho Springs, Colo., in 1944.
On Sept. 22, 1945, she married John Walter Ward in Fort Collins.
Ward worked as a homemaker and had lived in Berthoud since 1952, moving from Granby, Colo. She was a member of First United Methodist Church in Berthoud and was very active in the church's women's circle. She was also very active in the Berthoud community, volunteering with the Berthoud Library, the P.T.A., Brownie Girl Scouts, S.H.A.R.E. and with the First United Methodist Church.
She enjoyed traveling, shopping, sewing, crafts, crocheting and quilting. Ward was an avid reader and loved spending time with her grandchildren and great-grandchildren.
She is survived by her daughter, Margie Jane Maska, and husband Ted of Greeley; son, Jerry Ward, and wife JoAnn of Loveland.; brother, Jack Shults, and wife Jean of Brush, Colo.; brother-in-law, Clyde McCrary, of Amarillo, Texas; grandchildren, Greg Ward, and wife Tiffany of Loveland; and Stacy Hepp, and husband Brian of Loveland; and great-grandchildren, Jenna Hepp, Alex Hepp and Mitchell Ward, all of Loveland.
Beverly is preceded in death by her husband, John W. Ward, brother Dell Shults and sister Margie McCrary.
Memorial services will take place at 10 a.m. Monday, July 20, at First United Methodist Church in Berthoud. Cremation has been completed. Inurnment Greenlawn Cemetery in Berthoud.
Memorial contributions may be made to the Berthoud Public Library or Pathways Hospice in care of Kibbey Fishburn Funeral Home.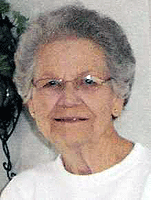 Print This Post