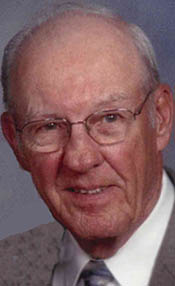 Darrell "Beaner" Baumer, 83, of Berthoud died July 31, 2014 at the Aspen House in Loveland. He was born August 28, 1930 in Stetsonville, Wisconsin to George and Ella Baumer. In August of 1956 he married Janice Mae Thurston in Hancock, Wisconsin. Darrell and Jan moved to Berthoud in 1982 where Darrell worked for the Berthoud National Bank. He had been in banking from 1956 to 1995. Darrell enjoyed golfing, woodworking, hunting, fishing and remote control airplanes.
Darrell is survived by his wife Jan Baumer of Berthoud; sons Jeffrey Baumer (Susan) of Denver, Brian Baumer (Shari) of Longmont and Douglas Baumer (Jan Wilson) of Gill,; brothers Leslie Baumer of Wausau, Wisconsin and Richard Baumer of Owattona, Minnesota; sister Mary Ann Wells of Brighton; grandchildren Justin, Samantha (K.C.), Matthew and Kristin (Robin); as well as one great-grandchild, Logan.
He was preceded in death by his parents and his daughter Nancy Harris (1987).
A Rosary will be held at 10:00 A.M. on Wednesday, August 13, 2014, with Memorial Mass following at 11:00 A.M. at St. John the Evangelist Catholic Church in Loveland (1720 West 12th Street). In lieu of flowers memorials may be sent to Pathways Hospice c/o Viegut Funeral Home. Go to www.viegutfuneralhome.com for condolences.

Print This Post