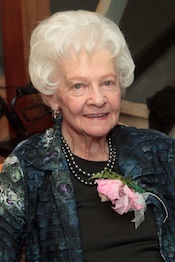 Dona Mae Bromley, 81, passed away May 21, 2013 at MeadowView's Memory Care Unit in Greeley, Colo.
She was born to Harry and Viola (Mudd) Halverson in Denver, Colo. on February 11, 1932.
"Dona Mae", as she was known to her friends and family, grew up with one brother, Donald, on a family farm where her parents raised poultry, eggs, and vegetables in Adams City, and wheat and some cattle on land bordering the Rocky Mountain Arsenal. She lived with her family at the same address for all of her school years in Adams City graduating in 1950. On August 20, 1950 she married Bill V. Bromley, Sr . They resided on the Bromley "Homeplace" in Adams City, raising their children (Bill Jr., Pamela Mae, and Brenda Lee). Dona and Bill remained partners in everything in life for just over 50 years until his death. Their many small business partnerships started in small-scale farming and finally retiring as store owners with numerous businesses in between. Dona also maintained her own identity independently from Bill as a telephone operator, bookkeeper, payroll supervisor, convenience store manager, and well as other retail positions. Recently, when she was telling about all the businesses and work she had done, the care-giver asked which one Dona liked best. Her reply was none, she preferred being a mother and grandmother.
Her love and support was always constant and abundant as a mother and grandmother. She was there also as a friend and loyal support to her children during their happy and difficult times. Dona's "golden" years started when the first of her grandchildren was born. She filled her life attending their sports and activities, birthdays, graduations, and weddings, as well enjoying time with her great-grandchildren. Family holiday dinner and festivities were planned, cooked, baked, and presented every year at Dona's home until Parkinson's Disease curtailed her involvement.
As Parkinson's increased its effects, Dona elected to live at Appleleaf, a local family-style assisted care facility in Berthoud, CO with a caring staff, and owner/chief care-giver Pete Sevy. After almost 3 years, Dona entered into advanced stage PD/dimentia, and required special services for her increasing care needs. MeadowView Senior Living (Memory Care Unit) provided an abundance of caring professionals to meet her custom needs since February 2013. Accent Care Hospice also became involved with their wonderful, attentive nurses and staff to comfort Dona. Our family wishes to express our sincere gratitude for the kindness, gentleness, and customized quality care and companionship to all of the caregivers with her during her stay.
Dona is survived by her children Bill (Jean) Bromley, Pamela (Dotson) Skaggs, Brenda(Derik) Dewey all living in Colorado; her grandchildren Billy Bromley, Tamara (Jordan) Rigberg, Martin(Elizabeth) Bromley, Brittany (Jeremy) Hoye, Scott(Jaime) Bromley, Stephanie Dewey, Rene Dunbar, and Jennifer Hilyard; and great-grand children Kaitlin Dunbar, Ethan Michael, Cierra Hoye, and Cambden Hoye.
She was preceded in death by her husband Bill in 2000, her brother, her parents, and her daughter-in-law Pauletta (Hoffman) Bromley. Mass of Christian Burial will be held on Monday June 10 (10:00 a.m.) at St. John the Evangelist Catholic Church in Loveland, Colo. Interment, Greenlawn Cemetery, Berthoud, Colo. Also, a viewing will be on Sunday, June 9 (3-5 PM) at Kibbey-Fishburn Funeral Home, Loveland, Colo.
Memorial contributions may be made to Accent Care Hospice, 1180 Main St. Suite 9, Windsor, CO 80550 or Parkinson Association of the Rockies, 1325 S. Colorado Blvd., Ste. 204B, Denver, CO 80222
Family and friends may express condolences at www.kibbeyfishburn.com

Print This Post