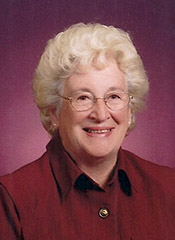 Maryanne Pennock passed away June 8, 2013 at her home in Berthoud.  She was 80 years old.  She was born July 25, 1932 to Frankie Norton Lanham and Urless R. Lanham in Longmont, Colorado.  After graduating from the Longmont schools, she attended Barnes Business College in Denver.  Later, she worked for Mountain Bell Telephone and Southern Bell Telephone companies in the business offices for 7 years.  She married her high school sweetheart Phil Pennock October 11, 1952.  They lived in Jacksonville, Florida, Denver, Colorado, Longmont, and Palisade, Colorado until making their home in Berthoud, in 1962.  There they raised four children.  She was a farm wife and enjoyed working with her husband.  She loved being a homemaker and grew many flowers and orchids.  She greatly enjoyed her garden, yard, and greenhouse.
Her family was her pride and joy.  She was very proud of them all.  She loved spending time with her grandchildren doing crafts, puzzles, and going on picnics.  She loved to cook and have family gatherings for holidays, special events, and birthdays.  She was the organizer of fun and games.  She was a 4-H leader for many years and enjoyed working with children.  She taught many of them how to decorate cakes.  She belonged to the United Methodist Church of Berthoud.  She loved to go camping and traveling, especially to the ocean, which she got to do often.
Maryanne was preceded in death by her parents, her husband, Phil Pennock, her brothers, Lawrence, Lloyd, and Url Lanham, and her sister, Nadine Mann.
She is survived by her daughters, Kathryn Terrell and husband David of Milliken, Colorado, Diane Small of Berthoud, and Judy Buchman and husband Jerry of Longmont, her son, Douglas Pennock and wife Linda of Berthoud, her grandchildren, Brandon Richard Small, Rebecca Ann Pennock, Susan Marie Pennock, and Annie Reagan, her brother, Jack Lanham of Grand Junction, Colorado, several nieces, nephews, and many friends.
Maryanne would like everyone to take the time to smell the flowers and be good to one another.
Visitation will be 4:00 to 7:00 p.m. Wednesday, June 12 at Ahlberg Funeral Chapel, with family present to greet friends. Funeral service will be 10:30 a.m. Thursday, June 13 at the First United Methodist Church of Berthoud. Interment Greenlawn Cemetery, Berthoud.  Memorial donations can be sent to the Berthoud Fire Department. Visit www.ahlbergfuneralchapel.com to share condolences.

Print This Post