Kenneth L. Fox   June 25, 1926 – April 23, 2013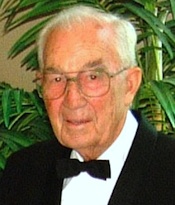 Kenneth Lee Fox was born in Zenith, Kansas as the last child in a family of 7 children to Gertrude and Fred Fox. He loved to tell that he was born on the birthday of his oldest brother, June 25, 1926. Ken was well respected and very active in his small farm community as an Eagle Scout, and as an athlete in basketball, football and track. When Ken was in 9th grade his parents had to move to find work so he continued to live in the small town all by himself and even drove the town's school bus After Ken graduated from High School in Garfield, Kansas at age 18, he joined The U.S. Army and was stationed in Germany.  He had the rare privilege of serving on the staff of a fellow Kansan, Gen. Dwight D. Eisenhower!  Ike was fond of calling Ken 'Kansas' and even arranged for Ken to fly to Italy to the grave of his brother, Glee, who had been shot down as a US airman.
When Ken returned stateside he enrolled in a 2 year Agricultural Program at 'Aggies' in Fort Collins (Colorado State Univ.)  One wintery weekend a buddy gathered Ken and friends to go meet some young ladies that the family knew. The group decided that Barbara would like the 'older' guy who was a veteran. A few dates up skiing and ice skating morphed into steady visits to Barb in Denver. By spring of 1949 they were engaged and on August 7, the original 'Barbie and Ken' started their 63 years of married life.
Ken spent the early years of married life in Kansas as a farmer and construction worker on Grain Elevators. Later the Foxes moved to Denver where Ken worked at Lowry Air Force Base and began building a house in Lakewood, all by himself in his spare time. Later Ken worked construction at the Rocky Mountain Arsenal and saw his family expand to 4 kids. Ken had loved Scouting and began work as a professional scout executive for many decades for the Boy Scouts of America first in Wyoming, then Kansas, and back to Colorado. In 1976 Ken and Barb moved to a rural property outside Berthoud, Colorado and once again started building a house from scratch. In fact, they built two houses; one for Barb's folks and one for themselves, including a beloved greenhouse where Ken grew fresh lemons and limes among many other plants. Ken and family also planted over 1000 trees and started the tradition of giving away geraniums, which Ken propagated by the hundreds each year, earning himself the name of 'the Geranium Man'.
Seeing their kids in college all at once finally lead Ken to seek work that would better help pay the tuition bills, so he went back to work for the government…this time with the US Fish and Wildlife Service as an engineer helping design and build facilities such as fish hatcheries all over the U.S. and even a moose refuge in Alaska.  He retired in 1993, but not before receiving a national award as a 'Point of Light' for his decades of volunteer work. Ken continued volunteering for BSA even at age 85 and also loved serving on various ministry teams at Life Bridge Christian Church in Longmont. Ken is survived by his wife, four children and their spouses, nine grandchildren and their spouses and three great grandchildren.
The Funeral will be at LifeBridge Christian Church, 10345 Ute Hwy, Longmont, Colorado on Friday, April 26 at 11:30 a.m.; followed by a Burial Service at Greenlawn Cemetery in Berthoud and a reception back at LifeBridge. Those desiring to do so, may join other family and friends in the ancient Christian Tradition of reading the Psalms continuously from the death until the burial by going to: Kenneth Fox Vigil Readings.

Visit www.ahlbergfuneralchapel.com to share condolences.

Print This Post