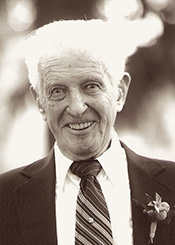 William "Bill" H. Schwindt, 90, passed away on April 16, 2013, at home. He was born on March 6, 1923 in Berthoud to Henry and Elizabeth (Nolde) Schwindt and grew up in the Berthoud/Loveland area.
His parents and grandparents were German-Russian immigrants who settled and farmed in Berthoud. Growing up on a farm, the values of hard work and family traditions were taught to him early, and carried through to the rest of his life.
He married Dorothy Frank on January 26, 1947 in Loveland at the First Congregational Church. They were married for 60 years. She preceded him in death in June of 2007.
Bill served in the U.S. Army as a Military Policeman in Germany during WWII. He was active duty from 1943 to 1946, and was among those brave soldiers that landed on Normandy Beach. He received the European Middle Eastern Service Medal, World War II Victory Medal and Good Conduct Medal.
He worked for the Great Western Sugar Company in Johnstown for 30 years. In the early 1950's, he worked on building the Charles Hanson Feeder Canal which is part of the Colorado-Big Thompson Project in Loveland. Bill enjoyed gardening and loved flowers. For many years he was an avid fisherman and loved goose and pheasant hunting. He enjoyed watching Broncos and Rockies games. Spending time with his grandchildren was one of his favorite activities.
Bill is survived by daughters Karen Scheck and husband Gary, Lola Johnson and husband Cliff of Loveland, grandchildren, Angie Baldwin, Leah Johnson-Dickson and husband Mike, Katie Johnson, Jared Schwindt and wife Cammie, all of Loveland, Garth Scheck of Orchard, and Jon Schwindt and wife Tina of Colorado Springs and great-grandchildren Sage Baldwin, Madison Schwindt, and Mya Schwindt.
He is also preceded in death by his son, William H. Schwindt, Jr, infant son, Melvin Gene and three brothers and three sisters.
Visitation will take place from 11-1:00 pm, Friday at Kibbey Fishburn Funeral Home. A graveside service with military honors will be held at 1:30 pm, Friday at Loveland Burial Park.
Memorial contributions may be made to First Congregational Church in care of Kibbey Fishburn Funeral Home.

Print This Post