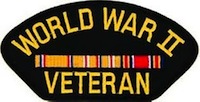 Donald Eugene Dortch, 89 years old, of Glenwood Springs, Colorado, passed away on Oct. 14, 2013.
Donald was born in Berthoud Colorado Oct. 3, 1924, to the late Finley and MaryAnn Dortch. Donald graduated from Berthoud High School, joined the army and served in WWII.
Donald served in the US Army, receiving the Victory Medal in WWII, Good Conduct Medal, American Campaign Medal, Middle Eastern Campaign Medal, and 4 Bronze Stars for major battles. After being discharged from the military, he became a heavy equipment operator engineer. Donald was also active in Masonic lodge No. 83 in Berthoud, Colorado. Donald met June Leela Muhme in Craig, Colorado and they married on April 13, 1957. In addition, Donald enjoyed carpentry, fishing, traveling and spending time with family along with summer vacations with his grandchildren.
Donald is survived by his spouse June Dortch; surviving children, Steven Caldwell, David Caldwell, and Pamela Henerdson; surviving grandchildren, Travis Caldwell, Stephanie Caldwell, Donald Kuntz, Kristina Schalnus, and Stacie Zeiler; and surviving great-grandchildren Taylor Schalnus, Kayla Willie, Dylan Kuntz, Degan Kuntz, Jett Schalnus, and Harlow Kuntz.
Memorial services were held at the First United Methodist Church, in Glenwood Springs, Colorado on Saturday, Oct. 19, 2013.
Contribution can be made in honor of Donald Dortch to the Glenwood Springs Lift Up Organization at P.O. Box 1928, Rifle, CO. 81650.

Print This Post