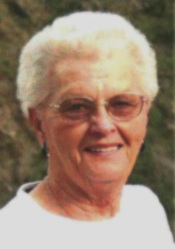 Laurene Louise Ellis, 83, of Berthoud, died November 18, 2013. She was born January 12, 1930 in Berthoud to Conrad and Leora (Drieth) Krieger. Laurene grew up in Berthoud and graduated from Berthoud High School in 1948. Shortly after high school, on March 20, 1949 she married Chester Ellis in Berthoud. She was a skilled homemaker, worked as a telephone operator and school secretary in Berthoud. She also worked for a scientific company in Loveland and retired from HP after 22 years of service. Laurene enjoyed golf, reading and sports. She especially loved the Broncos and attending the Rockies' spring training in Arizona.
Laurene is survived by her son Larry Ellis (Terri) of Loveland; daughters Linda Thomas (Richard) of Johnstown and Cindy Ellis of Windsor; her brothers Alvin Krieger (Betty) of Loveland and Jimmie Krieger (Marlyn) of Ft. Collins; and sister-in-law Judy Krieger of Berthoud.
She was preceded in death by her parents, husband Chester, her daughter Carol and a brother Kenneth Krieger.
Laurene's family would like to extend a special thank you to North Shore Health & Rehab and Pathways Hospice.
Private graveside services will be held at Greenlawn Cemetery in Berthoud. A reception for friends and family will be held Friday, November 22, 2013 from 3 pm-6 pm at the Viegut Reception Center. In lieu of flowers, memorials may be made to the Larimer Humane Society or the Berthoud Historical Society in care of Viegut Funeral Home. Go to www.viegutfuneralhome.com for condolences.

Print This Post