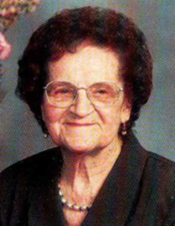 Leah M. Moore, 97, of Loveland died peacefully at her daughter's home October 8, 2013. She was born March 30, 1916 in Severance, Colorado, to Fred and Katherine Brunner.
Leah graduated from Eaton High School in 1934 and graduated with a Nursing degree at Presbyterian School of Nursing in 1937. She was surgical nurse at Loveland Memorial Hospital for over many years, retiring in 1975. She has lived in Loveland for 51 years before moving to Berthoud 7 years ago.
Leah married Paul Moore December 21, 1946 in Loveland. Paul died July, 1989. She was a member of Zion Lutheran Church and a volunteer at Meals-on-Wheels for many years. Leah proudly served her country as a nurse in the US Army during WWII from 1943 to 1944.
She is survived by her sons Randall J. Moore (Mary) of Loveland and Thomas D. Moore (Cindy) of Las Vegas, Nevada; daughter Denice Lyon (Earl) of Berthoud; grandson Kevin Paul Moore (Jessica); great-granddaughter Avery Lyn Moore; and many nieces and nephews.
Leah is preceded in death by her husband, 2 brothers and 3 sisters.
Funeral services will be held Sunday October 13, 2013, 2:00pm at Zion Lutheran Church. Viewing will be 1 hour prior to services. Burial at Resthaven Memory Gardens, Ft. Collins, on Monday, October 14, 2013, 10:30am. Memorials may be made to Meals-on-Wheels or Halcyon Hospice in care of Viegut Funeral Home. Go to www.viegutfuneralhome for condolences.

Print This Post