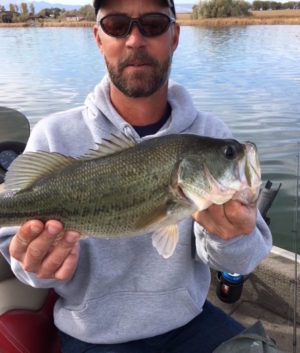 Eric Scott Koolstra, 44, of Berthoud, Colorado, loving son, husband, and father, died on May 13, 2017. He was born on May 9, 1973 in Boulder, Colorado to Wilbert and Marie Koolstra. He graduated from Berthoud High School in 1992.
Eric enjoyed being with his family. He loved to camp, hunt, and especially fish. He liked to spend time outdoors at the lake and the mountains four wheeling or at home being outside with his animals. He was a farmer and took pride in what he did. He grew up on a dairy, ran the largest fish farm in the state for almost 20 years, raised cattle, and helped his kids with their pigs.
Eric had an infectious laugh he was quiet until you got to know him and then he was your friend for life. He was very passionate about what he did and could fix anything. He was very proud of his kids and encouraged them to do anything they set their hearts to. He enjoyed watching their sports and recently built them their own basketball court. He liked to ride dirt bikes and four-wheelers with them and taking them on jeep rides. He wasn't afraid to show them up in anything, anytime, anywhere. He always won everything from knee boarding tricks to putt-putt golf to card games. It was always a competition to see who could catch the biggest fish.
Eric is survived by his wife of 20 years Jennie Koolstra; children Mason and Lia Koolstra; parents Wilbert and Marie Koolstra mother-in-law Jane King; and father-in-law Jim King (Patty). He is also survived by his sister Karmen Fiske (Kevin); his brother Dennis Koolstra (Jennifer); his nieces Brittany, Micah, and Madi; and nephews, Steven, Brien, Isaiah and Samuel; and his many friends.
In lieu of flowers, donations can be made to a College Fund for the benefit of Lia and Mason at Adams Bank and Trust in Berthoud. A private Celebration of Life will be held. Please go to www.viegutfuneralhome.com for on-line condolences.

Print This Post