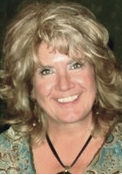 Our beloved Sonia went to be with the angels after a long and courageous battle against cancer. Sonia passed away at her home in Berthoud surrounded by her family and closest friends. Sonia was the middle child of Ray Johnson and Nancy Brown. Sonia spent almost her entire childhood growing up in Longmont.
Sonia was a 1980 graduate of Skyline High School and went on the get her Associates Degree in Fashion Merchandising from Bauder Fashion College in Arlington, Texas in 1982. It was in Arlington where Sonia met her husband, Stephen Locke from San Antonio, Texas. Sonia and Stephen were married on October 20, 1984. After moving back to Longmont in 1985, Sonia continued her retail career by managing two clothing stores at the Twin Peaks Mall. Sonia took a break from retail management in 1986 to start her family.
Sonia was the most caring, compassionate and generous mother to 3 beautiful children, Tyler, Marissa, and Ryan. In 1997, Sonia embarked on a career as a mortgage broker that lasted 20 years, most recently as owner of Amazon Financial Group in Longmont. The flood of 2013 forced Sonia and family to relocate to Berthoud.
Sonia will be sorely missed by her family, friends, clients, and her 3 dogs, Buddy, Gracie, and Peter. Sonia is survived by her husband and three children and her mother and father. Also by her two brothers, Carl Johnson and wife Silvia and Shawn Johnson and wife Paula and family all of Longmont. Additionally, Sonia is survived by her in laws, Bill and Betty Locke of Salinas, California and Jim and Priscilla Russell of Grand Prairie, Texas. Sonia was proud of the fact that she shared her birthday with Elvis Presley. Elvis was the KING, Sonia will forever be our QUEEN. In lieu of flowers, donations can be made to Sonia's Go Fund Me account at www.gofundme.com. Type in Sonia Locke medical fund to get to her page.
A memorial service for Sonia will be held Thursday May 11 at 2:00 P. M. at Howe Mortuary in Longmont. To be followed by a celebration of her life to be held at ScooterHinge at 333 Main Street in Mead, CO. Share condolences at www.howemortuary.com

Print This Post