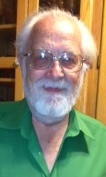 Jack Olen Dawdy was born on June 9, 1941 to Lester Erwin Dawdy and Goldie Mae Wallace in Tecumseh, Nebraska. Jack received his formal education through Auburn High School in Nebraska, UCLA in California, and the Midwest Business College in Colorado. Jack Dawdy accepted Christ as his Savior while he was in the U.S. Navy, where he served as a Radio Man on the USS TALUGA (AO-62).
Jack spent most of his life as a self-employed businessman serving his community with a wide range of offerings from retail shops, donut/coffee shops, tax preparations and other financial services. He also served on the Berthoud town board, was a counselor for the Life Choices Pregnancy Center, and was a member of American Legion Post #32 and Mouse Lodge #484. Jack was also a faithful church supporter who truly loved and honored the Lord by being a pastor and an elder of local churches. In his leisure he enjoyed his pets, gardening, and dabbling in technology. Jack enjoyed helping others and spending time with his wife, children, and grandchildren.
Jack Dawdy departed this life quietly in his home on June 26, 2013. He is survived by his beautiful loving wife, Yvonne Dawdy; son, Denis Dawdy; son and daughter-in-law, Michael and Ann Dawdy; son and daughter-in-law, David and Michelle Dawdy; grandchildren, Gino Dawdy; Joey Walker-Dawdy; Andrew and Eric Dawdy; and Juliana and Kyla Dawdy. He will also be missed by other loving relatives and friends.
A service celebrating Jack's life will be held in August 2013, details can be found at http://celebrationoflife-jackdawdy.weebly.com/. The burial will take place at Fort Logan National Cemetery. Viegut Funeral Home is caring for the burial arrangements. Go to www.viegutfuneralhome.com for condolences.

Print This Post