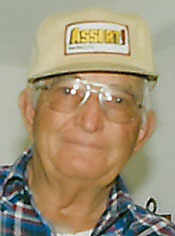 Jon Edward Deines of Berthoud, died September 1, 2015 at Longmont United Hospital. He was born May 18, 1935 to Freda and Henry Deines west of Berthoud on the family farm on North County Road 21. In his early years he attended the Red Rock School close to his home and graduated from Berthoud High School. He married Patricia Walter on January 22, 1956 and they settled on a farm west of Berthoud. Jon served in the Colorado National Guard from 1953 to 1960 and reached the rank of Sargent First Class.
Jon farmed with his father and brother Don west of Berthoud and ran a dairy for many years. In 1974 he began a part time, sometimes full time career working in the oil field as a pumper and gas plant operator all around Larimer and Weld counties. He completed his off the farm career at Mayo Welding in 2008 but remained active on the farm with his son-in-law and granddaughter's husband.
He was a member of the Berthoud Gun Club and served as club president for many years and was currently serving on the Dry Creek Ditch board. Jon was an avid outdoorsman, both hunting and fishing with family and friends. He enjoyed working on his Model T cars and helping others with all their mechanic needs. Jon was a devoted family man and loved spending time with his family whether it was working together, hunting and camping trips or vacations to visit family or old acquaintances. He was a friend to everyone he met and was generous with his time and would give others what he could to help them through a situation.
Jon is survived by his wife Patricia; children Tammy Schaal (David) of Berthoud, Tim Deines (Laura) of Houston, Texas and Terry Deines of Loveland; grandchildren Erin Mazza (Mark), Sarah Phillips (Will), Trevor, Cade (Allison) and Braden Deines, Mitch Deines (fiancé Terra) and Cole Deines (fiancé Samantha); great-grandchildren Cooper, Tatum and Teague Mazza, Isabel and Leila Phillips; as well as numerous nieces and nephews.
He was preceded in death by his parents; bother Donald Deines, sister Donna Shefferd and sister Marjorie Blodgett.
Graveside services will be held at Greenlawn Cemetery in Berthoud on Friday, September 4, 2015 at 2:00 P.M. Viewing will be held at Viegut Funeral Home on Thursday, September 3 from 4-7pm. Memorials may be sent to the Wounded Warrior Project and/or Realities for Children c/o Viegut Funeral Home. Go to www.viegutfuneralhome.com for condolences.

Print This Post