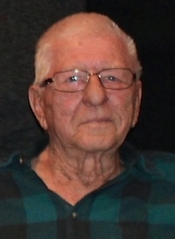 Milton Lowell Hamann
January 25, 1927 ~ September 14, 2015
Milton L. Hamann of Longmont, died September 14, 2015 at Life Care Center of Longmont. He was 88 Years old. He was born January 25, 1927 in Leigh, Nebraska to Henry Alexander and Freida Marie (Claussen) Hamann. He grew up on farms in Montana and Nebraska. He attended high school in Grand Island, Nebraska.
He married Vivian V. Lett on September 3, 1950 in Holyoke, Colorado. They moved to Arvada and then to Longmont in 1967. They were married for 61 years, raised 4 children, 9 grandchildren and one great-grandson.
Milton was a World War II Veteran, he left high school early to join the Navy and served on the destroyer escort USS Kretchmer in the South Pacific. He was honorably discharged in 1946. He went to Denver where he got a job as a truck driver, later doing long haul and local cattle hauling. He sold his trucks and they purchased the Berthoud A&W in 1971 for Vi to run and Milt started ranching and hay farming which he continued until his retirement, he never really retired, he just couldn't go any more. His favorite time of year was always calving season, he really enjoyed seeing the new calves running around the pasture.
Milton was very proud to finally receive his honorary high school diploma from Longmont High School in 2010.
Milton was preceded in death by his wife of 61 years, Vivian, his parents, brothers Dennis and Gordon and a grandson, Robbie Hamann.
He is survived by three sons, Randy R. Hamann (Judi), Nicholas N. Hamann and Monte M. Hamann (Susie) and one daughter, Jodi J. Mossoni (Mark); his grandchildren, Kory Mossoni, Joleen Polk (Ryan), Rustin Hamann, Jordan Hamann, Nicole Hamann, Kalen Solano, Lyndsay Solano, Jaxson Hamann and great-grandson Fischer Polk (Joleen's).
The family wishes to thank the caregivers at Life Care Center for their loving care of Milt.
Visitation from 5:00-7:00pm, Sunday, September 20, 2015 at Ahlberg Funeral Chapel. Funeral services 10:30 am, Monday, September 21, 2015 at Calvary Church, 2101 Gay Street in Longmont. Interment at Berthoud Greenlawn Cemetery. Memorial contributions may be made to the Wounded Warrior Project in c/o Ahlberg Funeral Chapel. Share condolences at www.ahlbergfuneralchapel.com.

Print This Post