Joyce Eleanor Scott, age 83, went to be with the Lord after a long courageous fight with Parkinson's disease. She was born on Nov. 10, 1926 in Hastings, Mich., to Karl F. and Florence J. Henderson Eckardt of Lake Odessa, Mich.
Scott attended school in Woodland, Mich., and graduated from high school in 1944. She attended a college in Naperville, Ill., for two years and she and her cousin came to Denver to earn their degrees as a Medical Technologist, working at Denver General Hospital. While in Denver, she met her future husband through his sister who had been in college with her.
Scott returned to Michigan and worked at Kalamazoo Bronson Hospital for a year. She married Raymond B. Scott of Aurora, Colo., in Lake Odessa on August 17, 1948 and accompanied her husband to Lemars, Iowa where he was attending Westmar College preparing for Christian ministry. Scott worked at the Sacred Heart Hospital for three years and following Raymond Scott's graduation, she worked at Copley Hospital in Aurora, Ill. She always said she got her P.H.T (putting hubby through). After their first son, Karl, was born, she remained at home caring for the family and assisting in the church work.
Following her husband's graduation from seminary, they returned to Colorado and served the Evangelical United Brethren and United Methodist churches in the Colorado towns of Seibert, Peetz, Johnstown and Berthoud and also in Rawlins Wyo. While at Rawlins, Scott worked at the medical tech lab in the Carbon County Hospital for 10 years. After retiring in 1989, the couple moved to Berthoud.
While serving the church in Berthoud, they were foster parents to 35 babies over 10 years. The whole church became involved in many ways with this project. As Scott sang in the choir, many of the folks in the congregation took turns caring for the little ones. The foster parenting was under the direction of the Larimer County Social Services program.
Five children blessed their marriage: Karl and wife Cheryl of Fort Lupton; Barbara and husband Paul Lecheler of Allen, Texas; Marvin and wife Cyndi of Tucson, Ariz.; Cindy Scott of Aurora, Colo., and Louis and wife Francine of Loveland. Also, six grandchildren: Wesley Scott, Russell Scott, Steven Lecheler, James Lecheler, Tiffany Stroh and Charles Huerta. Additionally, three great-grandchildren: Bailey Scott, Nevaeh Marner and Tyler Scott. She also had many nieces and nephews and in-laws, including a sister-in-law, Eunice Eckardt of Lake Odessa, and many friends.
Scott was preceded in death by her parents, Karl E. and Florence J. Eckardt, her brother, Bruce Eckardt and daughter-in-law, Cheryl Scott.
Cremation will be completed. Services will be on July 31 at 10:30 a.m. at Berthoud United Methodist Church, followed by a luncheon at the church and Inurnment at Greenlawn Cemetery in Berthoud.
In lieu of flowers or gifts, donations can be made to Berthoud United Methodist Church or Pathways Hospice in care of Kibbey Fishburn Funeral Home.
News Image: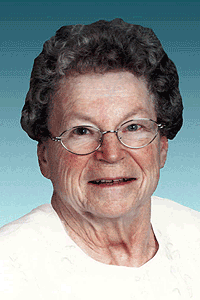 Long Description:
<p>Joyce Eleanor Scott</p>
Category Lead:
Category Primary Featured Story

Print This Post