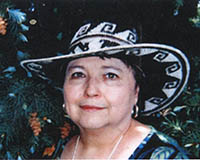 Judith Ann Lehn was warmly welcomed into the Universe on April 17, 2014. She transitioned peacefully, with her best friend, Leslie, by her side, along with her devoted husband, Don, and her goddaughter, Analee, as well as many others with her in divine spirit, including her beloved sister, Nancy. Judy's effervescent, loving; quick-witted personality naturally drew everyone to her. Judy cared deeply for all she met. In fact, Judy embodied the ancient meaning behind the word "Namaste" by honoring the divine spark in each and every individual. Judy had the ability to make everyone always feel welcome and special. Judy's natural curiosity regarding the human condition brought out her skills of empathetic listening, ability to find common ground, and even the rare skill of actually telling on herself to allow others to feel at ease. Judy had a rare intellect, a quick wit, and a keen sense of humor. She loved to laugh, loved intellectual pursuits, and adored old movies.
Judy met the love of her life, Donald R. Lehn, at his 1960s coffee shop, "The Green Spider." They were married shortly after and spent forty-seven years together. Both Don and Judy felt that they were always meant to be together right from the start. Some people refer to such a match as finding their "soul mate." For Don and Judy, their connection went far beyond being each other's soul mate. Though not traditional people per se, Don and Judy truly embodied the old-fashioned wedding vows we all know–they were constant friends, faithful partners in sickness and in health, in good times and in bad, in joy as well as in sorrow. Judy and Don promised to love each other unconditionally, they supported each other in their spiritual growth as well as in their immediate and lifetime goals, they honored and respected each other, they laughed and cried together, and, most importantly, they cherished each other in this life, and will to the next. Don said there would be a "Judy-sized-whole" in his life now. However, Don believes that in death Judy is still with him, only at peace and whole. Judy's body was but a vehicle in this life; her soul is now transcendent light shining upon all of us who knew and treasured her.
Besides being a valued career woman wherever she worked, Judy was also a loving mother to her son, Steven Lehn, her stepdaughters, Karen and Lesa, and her goddaughter, Analee. Judy was always but a phone call away as we all grew into adulthood. Despite her always-busy schedule, Judy took the time to meet with her children in good times and in bad. Judy often sent beautiful letters to encourage us, to let us know that ultimately life is an exciting and beautiful place to explore, and that she had been through similar circumstances herself. Judy was in her heart of hearts a wonderful writer. She took the time to write editorial pieces, and letters, to her local newspapers. Judy was also very active in her community, served on committees, and truly cared about the issues of the day.
Judy is survived by her devoted husband, Don; her treasured sister, Nancy, and her family; her best-friend since childhood, Leslie; her children Karen, Lesa, and Analee; her grandchildren and great grandchildren; her many , many friends; and, at last, Judy is now one with her dearly departed, cherished son, Steve.
Judith Ann Lehn loved life, loved her family, and loved the divine spark in others. Judy truly believed life is the grand adventure and that living life to the fullest each day is the key. Judy believed in us all.
"Any man's life, told truly, is a novel…"
-Ernest Hemingway, Death in the Afternoon

Print This Post